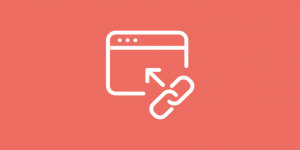 How do you know which tweets actually get people to take action? How do you make sure you're accurately tracking the success of your Twitter campaigns?
While it's quite easy to track clicks and see how much traffic and conversions you're getting from Twitter, web analytics are actually quite limited when it comes to social media. But there is a solution to help you test, optimize and improve your Twitter marketing…leveraging UTM tracking links.
In this blog post, I'm going to show you how to leverage UTM tracking links to grow your Twitter.
The What, Why's and How's of UTM Tracking Links
If you're not familiar with UTM links, they are formed of the link you want to track + so-called UTM parameters, which are basically short snippets of code that allow you to track your links in much more detail than normal.
A UTM link looks something like this:
"https://www.lilachbullock.com/?utm_source=twitter&utm_medium=social&utm_campaign=sale"
As you can see above, the parameters are clearly identifiable in the link:
UTM_source: the source of your traffic
UTM_medium: the medium (in this case, "social" or even "twitter")
UTM_campaign: the campaign (in this example, it's a sales campaign, but it can be any campaign you're holding: an A/B test you've set up, a product launch campaign, a blog promotion campaign and so on)
These are the 3 main types of parameters – the most commonly used ones – although some tools allow you to add custom parameters to your links.
That said, these 3 (source, medium, and campaign) are more than enough to tell you what you need to know about your Twitter traffic, conversions and engagement.
The reason why you should leverage UTM tracking links on Twitter is that they are much more accurate than normal Twitter and web analytics combined.
To give you a better idea of how you can leverage UTM tracking links, here are some examples of what they can tell you:
See which specific Twitter posts get the most traffic/conversions (for example, you can A/B test 2 different calls to action to see which ones get the most traffic)
When someone interacts with one of your ads, you can use UTM links in your replies to further track the success of your ads
Track the results of specific Twitter campaigns; for example, a product launch, an event you're promoting, and so on
Track the results of a specific Twitter influencer marketing campaign
As to how to create UTM tracking links, it's very, very easy; all you need is a tool to help.
For one, there's the Google CampaignURL Builder, which was primarily created for ads (although you can create links for anything you need):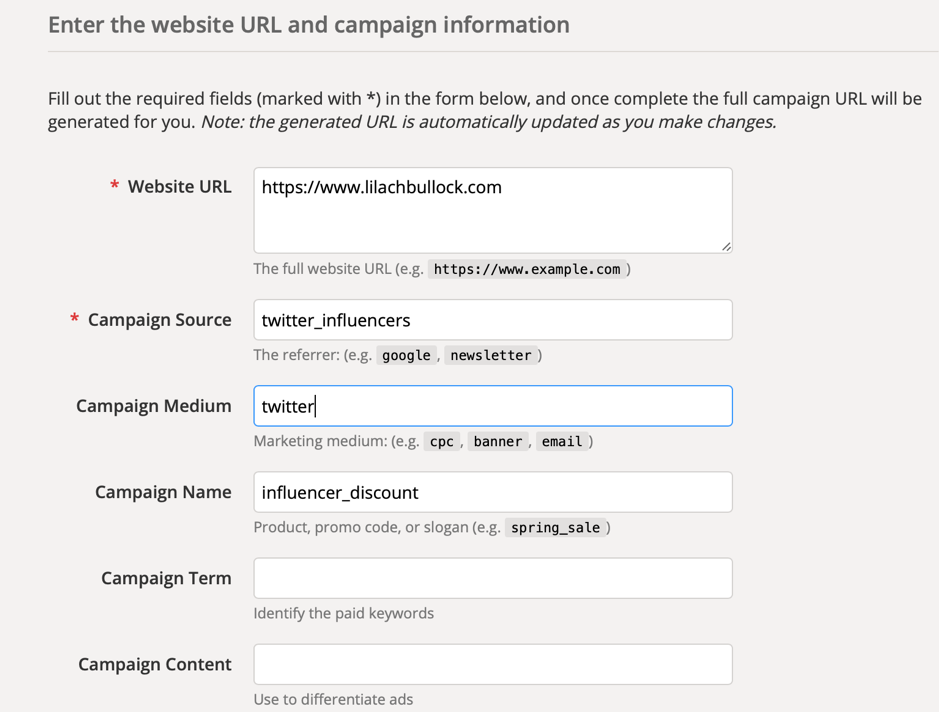 It's very straightforward: just add the UTMs you want and your link will be automatically generated so that you can copy and paste it where needed. As you can see above, there are a couple extra UTM options (campaign term and campaign content) which are normally used to better track Adwords ads.
Another option is to use a social media tool with built-in UTM features: Agorapulse or the SEMRush Social Media Poster. Both are social media tools – the first, asocial media management tool and the latter, a social media posting and scheduling tool. Here's how they work.
Agorapulse lets you turn on UTM tracking whenever you add a link to one of your social media updates: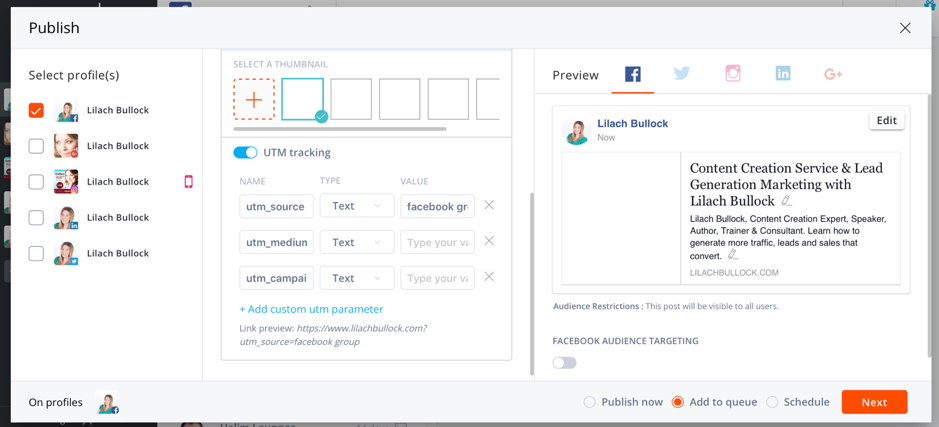 The 3 most used UTM parameters are already there so you just have to add the values you want for the parameters you want to use.
Or, if you want to change things up, you can also add custom UTM parameters. Another cool feature here is that you can change the UTM parameter type from "text" to "dynamic"; what this means is that you can automatically change your UTM links depending on where they're used (either by social network or by social profile). So, for example, if you're sharing the same link on various Twitter profiles, you can turn on the dynamic option so you don't have to manually enter the parameters for each separate link or account.
It's also worth mentioning that you can connect your Bit.ly account and automatically shorten these long (and admittedly, not very attractive) links.
The SEMRush Social Media Poster lets you add UTMs by clicking on the UTM icon whenever you add a link to your Twitter update: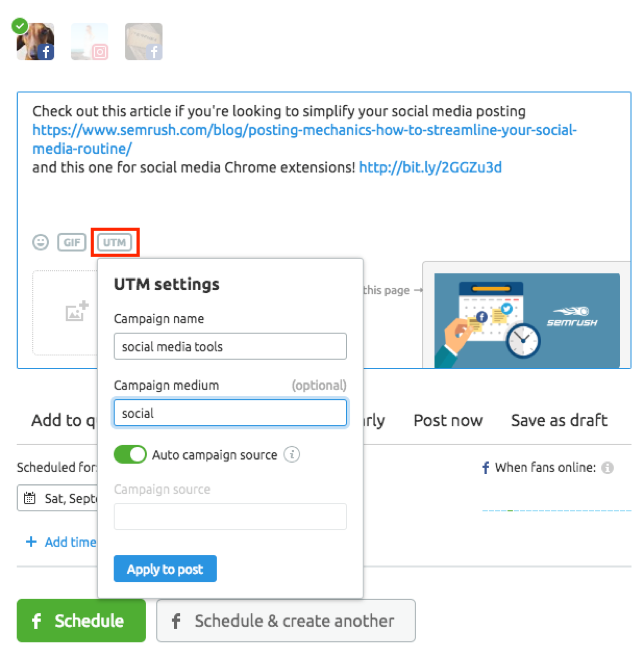 As you can see, you have to add a campaign name and, optionally, a campaign medium. As for source, you can either enter that manually or leave the tool to do it automatically for you. This, once again, is a time-saving feature for when you find yourself posting the same update and link across different channels.
Finally, to track these links, all you need is your Google Analytics account – just go to Acquisition -> Campaigns to see your results. This way, you'll be able to track each link in terms of traffic and quality of traffic (how much time they're spending on your website, how many pages they're viewing per session, etc.); plus don't forget to create conversion goals in Google Analytics so that you can also see exactly how many(and which) conversions you've made.
Putting It All Together for Results

Once you understand what UTM link are and how they work, it becomes clearer how easy it is to employ them in your strategy as well as how many possibilities you have for using them to your advantage.
There are 3 main ways that you can leverage them on your Twitter:
To accurately measure your success and actual return on investment (ROI)
To test different strategies and updates and see how they perform
To track your Twitter results in greater detail
However, we're here to talk about growing your Twitter and the best way to grow? It's to learn what works and what doesn't so that you can optimize your strategy.
You can set up A/B tests (where you test one element at a time to see how it affects your results) or you can take a more informal approach where you simply test all (or just the ones you want to) tweets (or ads) to see which perform best.
You'll need to create several UTM links, one for every update you want to track in detail; that's not to say you should a UTM link to each tweet that has a link, but rather the more important ones that you want to track.
Here are some of the things you can test for:
What calls to action work best: what gets people to take action? Which calls to action actually work? You can experiment with promotional tweets to see which types of calls to action actually get people to convert (as before, make sure to set up conversion goals in Google Analytics in order to track the exact conversions made)
Which types of tweets perform best: does your audience prefer video, GIFs, images? Which tweet formats consistently perform better not only in terms of clicks and engagement but also the quality of your traffic and the conversions made (when relevant to your business objectives)
Which updates get the most high quality traffic?If you're sharing your own blog and website content on Twitter, this will also help you understand which headlines and topics are most successful amongst your audience
Conclusion

By leveraging UTM tracking links, you can take your analytics one step further and go beyond general analytics and gain a much deeper understanding of what types of tweets work and which don't.
Use them frequently to set up your own tests and most importantly, learn from the test results so you can further optimize your Twitter strategy.