With around 10K tweets being shared every second, your post might not get the desired traction on Twitter if not done the right way.
In fact, there is no room for common Twitter marketing mistakes when it comes to marketing your brand on Twitter marketing your business on the platform. And, as a social media marketer, you don't want people to unfollow your brand on Twitter.
So how do you avoid common Twitter marketing mistakes? Well, that's what the article is about.
To be honest, marketing on social platforms is tricky. Especially on Twitter, after Elon Musk's takeover and his controversial tweets like "I hate advertising."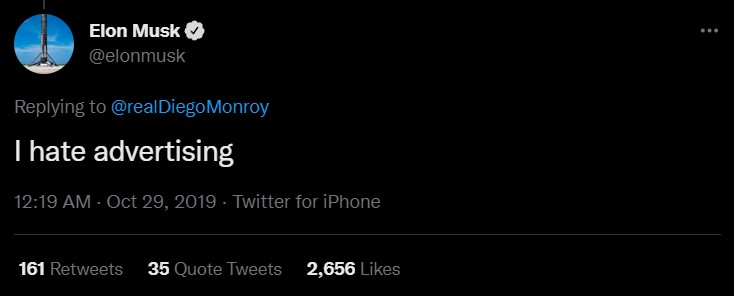 Image via Twitter
Marketers are uncertain about the future landscape of the platform. It's unclear whether the platform will facilitate advertisements. And if there aren't any ads, how will brands leverage the platform for marketing purposes?
Considering the uncertainty, it's understandable for Twitter marketers to make some common mistakes.
Hence, we've created this list of common Twitter marketing mistakes to avoid in 2023. If you're aware of which common mistakes people make, you can easily avoid them.
So, let's get started with our list of common Twitter marketing mistakes.
6 Common Twitter Marketing Mistakes That Marketers Make
Here are six common Twitter marketing mistakes that you should avoid when marketing your brand on the platform.
1. Avoiding Automation Tools
A very common Twitter marketing mistake is not using automation.
To stay active on Twitter you may need to send several tweets a day, at specific times. This can be quite an effort when done manually but is a breeze with automated scheduling and posting tools.
We aren't suggesting you buy top-notch marketing automation software that costs a bomb. There are freemium tools in the market like Buffer and HootSuite that you can try and if they make things easy for you, just subscribe to them.
And if you're already using an SEO tool like Semrush, start using its social media marketing features. They're useful. According to Attrock, Semrush is a great tool for digital marketers to research and analyze their website performance.
The automation tools can help you schedule content publishing on Twitter. So, even if you're busy with other tasks, your tweets will still be sent on time.
2. Not Optimizing Your Profile
Not paying much attention to their Twitter profiles is one most common Twitter marketing mistakes that marketers make. Outdated banner images or incomplete descriptions are more common than you'd think.
The reason why it's not good for your Twitter marketing is that these are the things people see and decide whether to follow you or not. They visit your profile and try to identify if your brand relates to the content they prefer on Twitter.
For example, You can review the profile of Social media influencers who create effective profiles with help of good influencer marketing service agencies for Twitter and other social media platforms.
The profile is an essential element of your Twitter marketing and you shouldn't make the mistake of leaving it incomplete or outdated.
Here is what you should do to avoid this Twitter marketing mistake:
Make sure that your Twitter handle (your username) is the same as your other social media handles. It's better that you use your brand name as a username.
Use your brand logo as your profile picture.
Use the short bio (within 160 characters) to communicate what your Twitter account is all about.
Add your website URL to make it easy for visitors to explore your website.
Mention your headquarter location and other pertinent business information.
Lastly, use the banner image to communicate with your profile visitors. Take a look at how Semrush has placed a subtle message on its profile banner.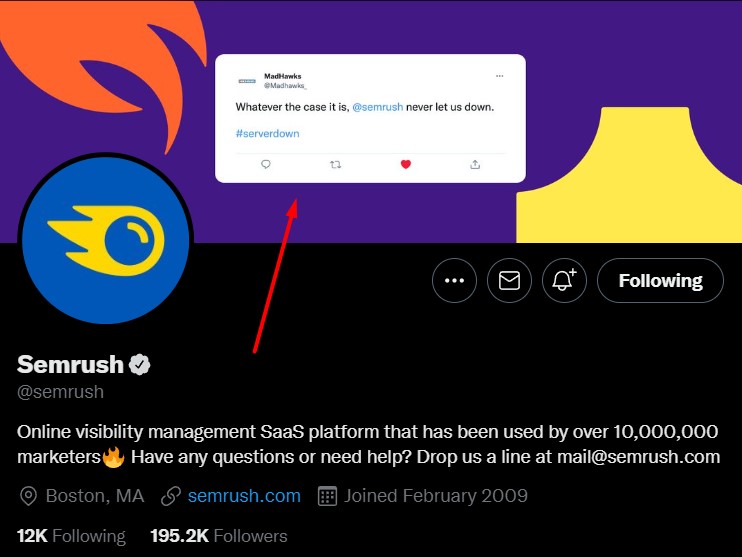 Image via Twitter
Optimizing profiles is an effective SEO strategy to get rank in the SERPs. You need to optimize your profile with related keywords, right location, and optimize your profile and description as per the Twitter guidelines.
Don't make the silly mistake of using just any image as your Twitter profile banner. Consider it as an advertisement space where you intelligently place your brand messages.
3. Not Engaging with Your Audience
Another Twitter marketing mistake businesses make is they rely solely on automation tools to engage their audience.
Automation tools are great for scheduling tweets. But there is more to Twitter marketing than just tweeting at the right time.
You need to operate your Twitter account in a way that your followers know that an actual person is behind it. Start checking your Twitter account every day to know what's happening.
The best approach to humanizing your Twitter account is to engage with your audience. Respond to retweets and comments to your posts. Also, explore what others in your niche are talking about and engage with their tweets by replying to or retweeting the posts that are related to your brand.
Creating and sharing shoppable videos is the right way to engage your followers to spread your posts over other social media platforms. It helps you to grow your business sales in a better way.
What's more?
Social media advertising on Twitter, Instagram, and Facebook is a great option for marketers. Leveraging cost-effective Twitter, Instagram, and Facebook ad reporting tools is the right approach. These tools provide the real-time performance of your ads on Twitter, Facebook, and other social media platforms.
Here is an example of how intelligently Converse responded to a tweet stating why companies don't do anything for the LGBTQ+ community other than doing pride capsule collections.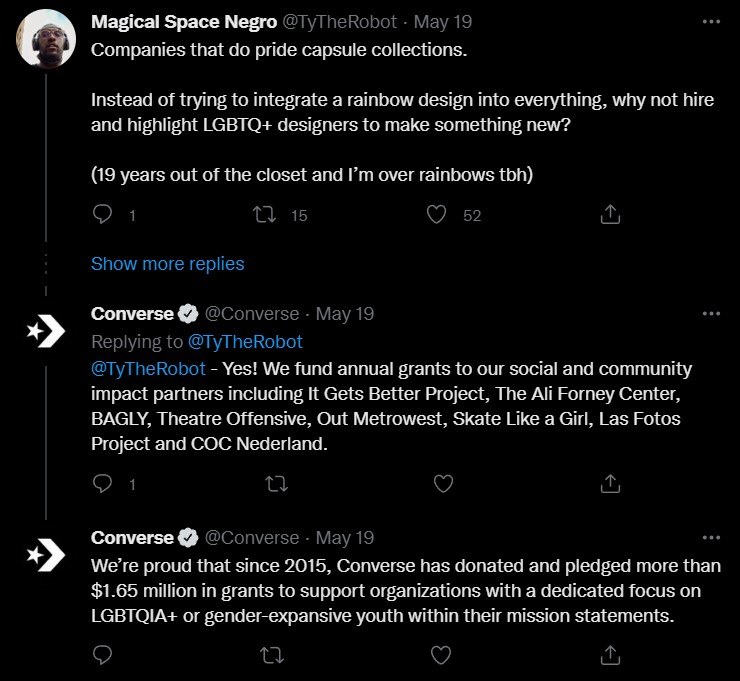 Image via Twitter
You can use a similar communication technique to connect with your audience and respond to their comments or tweets.
4. Being Too Promotional
Social media, especially Twitter, is more about giving than taking. Brands that make the mistake of sharing only self-promotional tweets don't get the desired engagement.
What should you do, instead?
To avoid this Twitter marketing mistake, divide your content strategy into three equal categories:
Tweeting promotional content
Posting content for brand building and audience engagement
Sharing content from influencers and peers in your niche
How does it help?
With this strategy, you'll build trust among your audience and get a more engaged follower base. Also, if you share valuable content, your viewers are more likely to retweet your tweets.
Check out this example of Vans tweeting about how it's helping artists bring their ideas to life. This goes beyond promotion and helps the brand form deeper connections with its audience.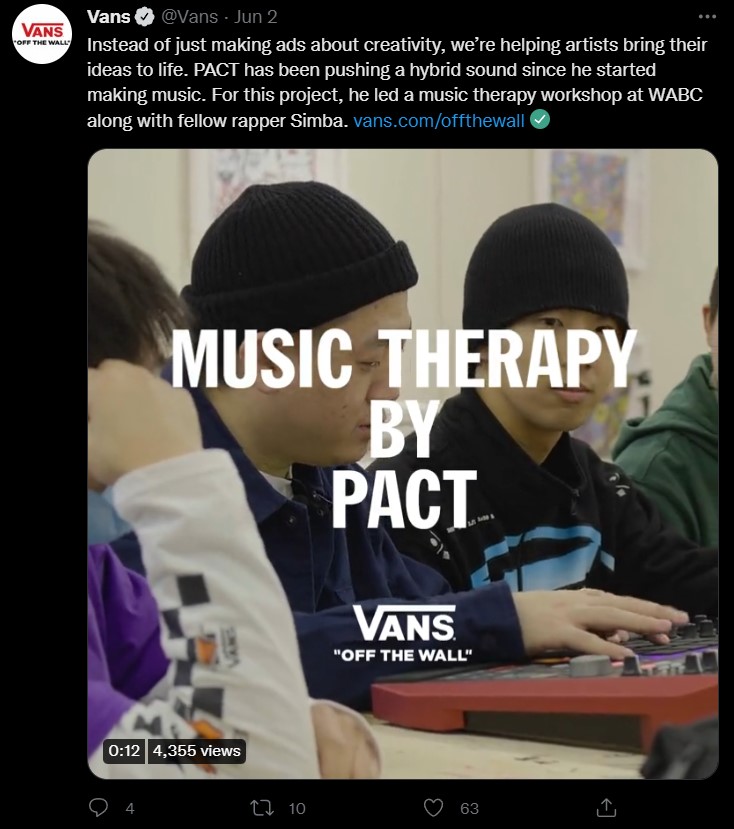 Image via Twitter
The catch is to share useful and relevant content that your audience likes and values. This way, you don't lose followers. Instead, you earn more.
5. Not Leveraging Twitter Lists
Twitter Lists are great for segmenting your contacts or Twitter accounts in your niche. Still, one of the common Twitter marketing mistakes many social media marketers make is not including it in their strategy.
As a marketer, you need to analyze your competitors and stay in tune with what experts in your niche are talking about. Lists can come in handy if you follow a lot of people and want to quickly send a bulk message to a specific group.
You can create just any type of list on Twitter. All you have to do is to head down to your Twitter profile and click on 'Lists' in the left-hand menu.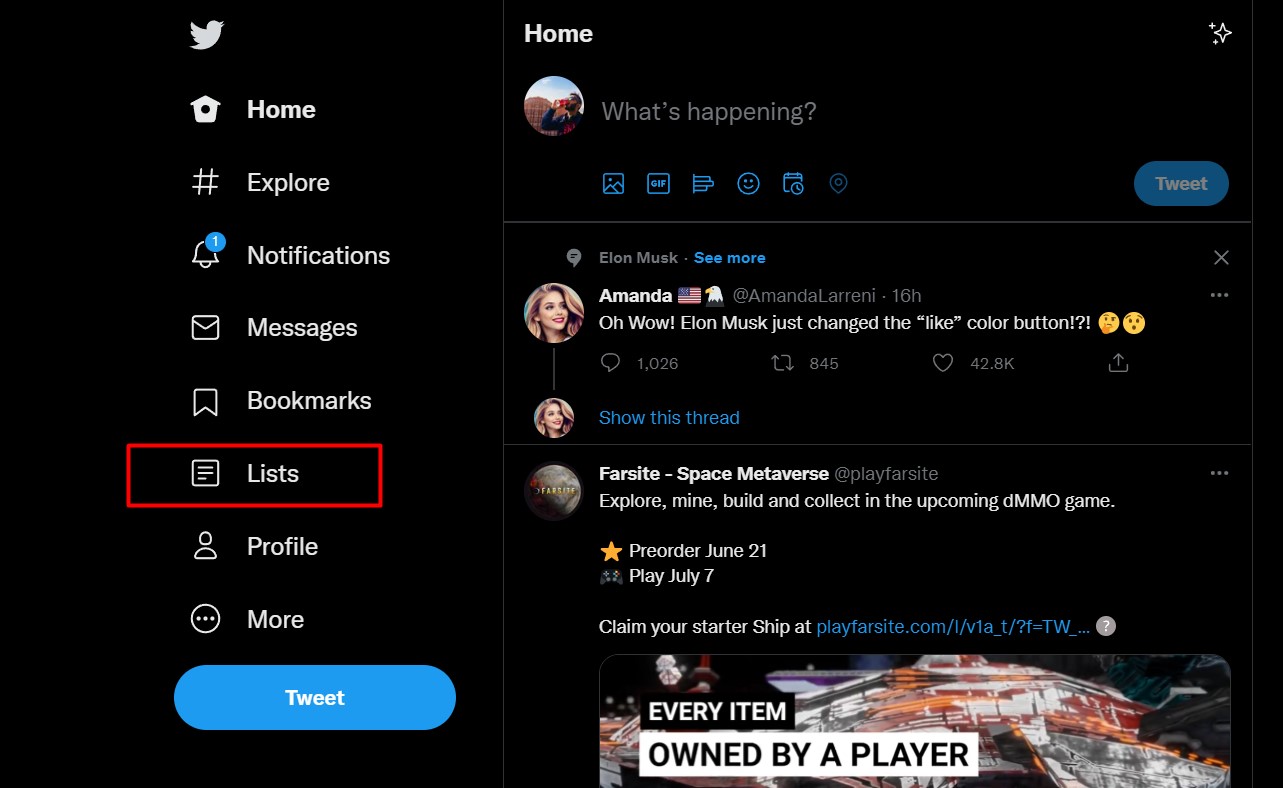 Image via Twitter
You can manage multiple lists on your Twitter profile. Here are some examples of the type of lists you can create:
Niche news resources
Competitors
Customers
Sales leads
Industry peers
Influencers in your niche
6. Not Using Hashtags
One of the biggest Twitter marketing mistakes is not focusing on hashtags. That's because most people use hashtags to search for tweets related to the topic of their interest.
For example, if you're looking for email list management tools, you can simply search a hashtag for '#emaillistmanagement,' and the result will have posts related to email list management.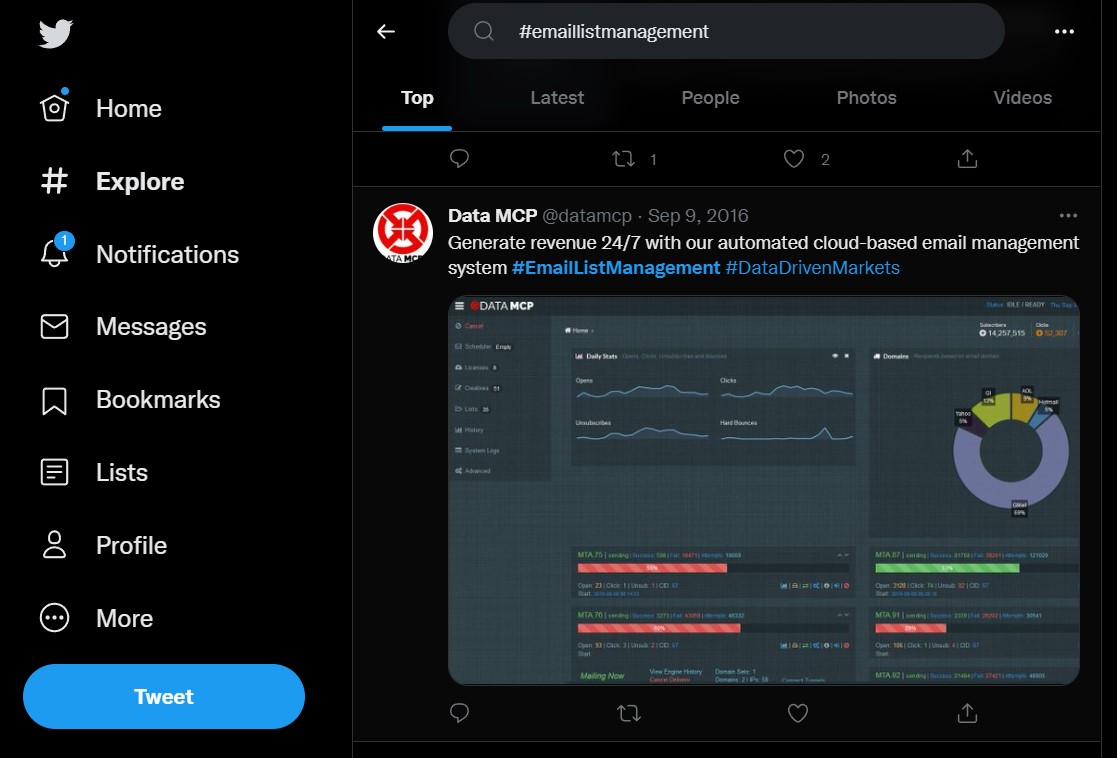 Image via Twitter
If you want to look for trending hashtags in your niche, there are tools that help you find and track hashtags in your niche. One such example is Hashtagify.
Moreover, Twitter recommends using just 1-2 hashtags per tweet, so make sure that you use the right ones.
Wrapping Up
Twitter marketing can be quite useful for your business if you avoid common mistakes and do it right.
Make sure you use an automation tool to streamline your tweeting process and improve audience engagement. Also, leverage Twitter Lists and hashtags to get the most out of your Twitter marketing efforts.
Now that you know the common Twitter marketing mistakes, you can plan your strategy in a way that boosts ROI and avoids any pitfalls.
So, what are you waiting for?
Start planning your Twitter marketing strategy and drive your brand toward success.
Gaurav Sharma is the founder and CEO of Attrock, a results-driven digital marketing company. Grew an agency from 5-figure to 7-figure revenue in just two years | 10X leads | 2.8X conversions |  300K organic monthly traffic. He also contributes to top publications like HuffPost, Adweek, Business 2 Community, TechCrunch, and more.
Social Media Profiles