In recent years, we have all seen the impact that influencers can have on brands.
This explains why more and more businesses are jumping on the influencer marketing bandwagon. In fact, the global market value of influencer marketing has more than doubled since 2019 to reach $13.8 million in 2021.
This proves that the future of influencer marketing is booming with opportunities for brands.

That being said, influencer marketing is rapidly changing—thanks to the evolving social media landscape and ever-emerging technologies.
8 Trends That Will Shape the Future of Influencer Marketing
Almost 63% of marketers plan to increase their influencer marketing budgets in the next year. That only makes sense.
When done right, influencer marketing can help you expose your brand to a new audience, increase brand awareness, build credibility, and improve your bottom line.
Now, to do it right, you need to stay updated on the trends that might shape the future of influencer marketing.
What do customers expect from influencers? What new technologies should you watch out for? And most importantly, what kind of influencer partnerships will dominate?
Without further ado, let's get to the main predictions for the future of influencer marketing in the coming years.
1. A Greater Emphasis on Micro-Influencers
It's becoming more and more obvious that the future of influence marketing is micro.
While it may seem counter-intuitive to partner with influencers with smaller audiences, statistics prove otherwise. As per a report by Fohr and Later, micro-influencers have the highest engagement rates—about 7%.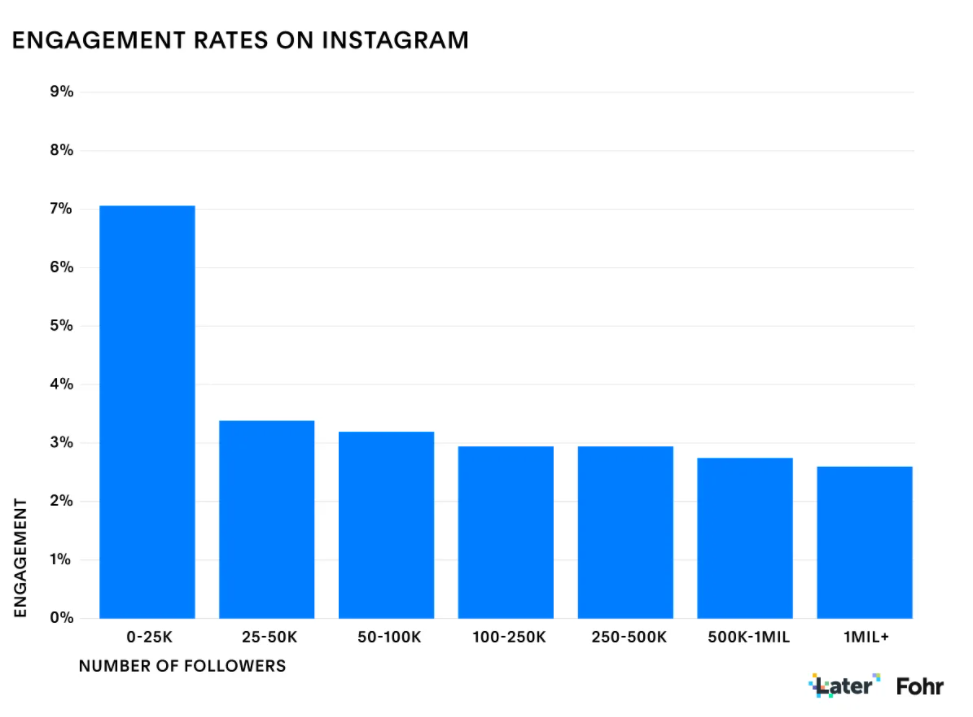 Micro-influencers typically have a much stronger connection with their followers. Besides, since they seem more approachable and less celebrity-like, it's easier for people to relate with them. This in turn translates to more trust.
Several brands from across the world are growing exponentially by partnering with micro-influencers at scale. One of the best examples is Daniel Wellington.
The watch brand sends free premium watches to nano and micro-influencers in exchange for social media publicity.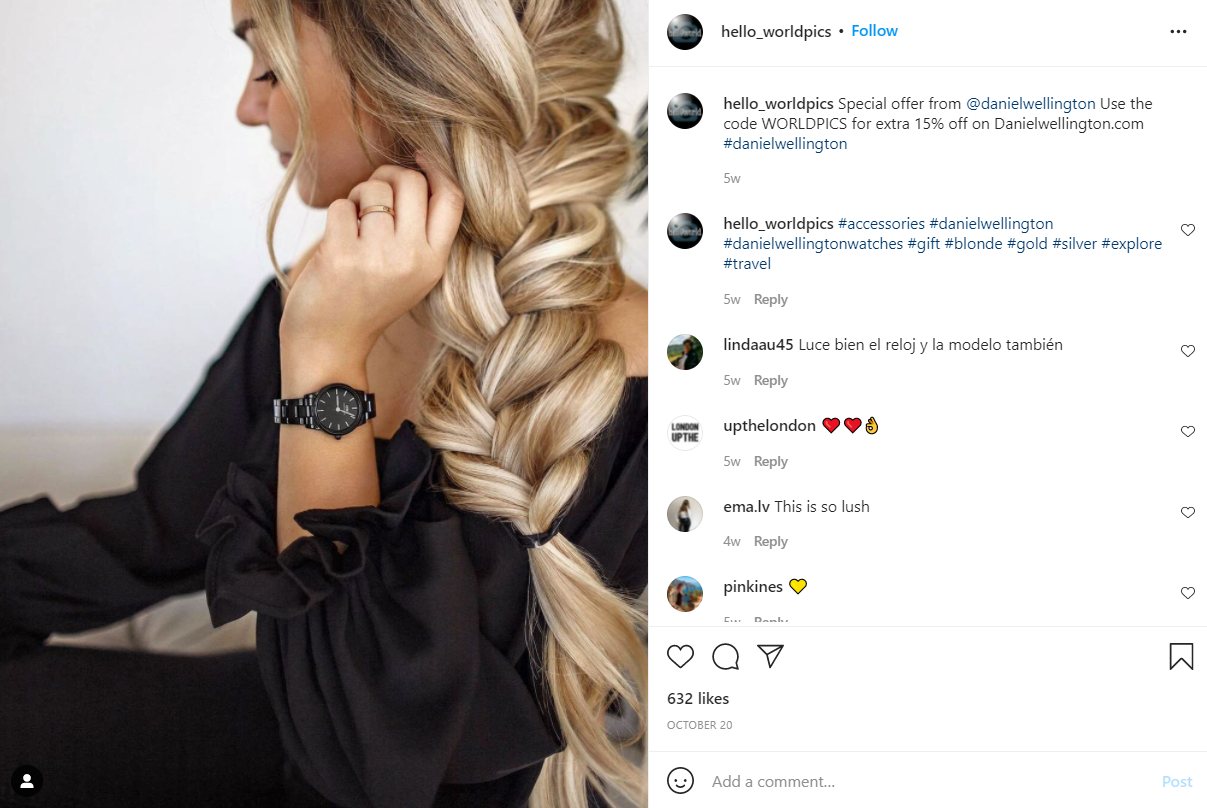 Image via Instagram
Needless to say, nano and micro-influencers will dominate the future of influencer marketing.
2. Long-Term Partnerships Will Take Precedence
Trust isn't built overnight. That is why the future of influencer marketing lies in ongoing, long-term partnerships.
It's unlikely for a single sponsored post to generate a lot of sales, no matter how engaged the influencer's audience is. When followers see an influencer promoting a product multiple times, the chances of them making a purchase is much higher.
Besides, long-term partnerships enable influencers to really understand the brand and its ethos. This makes it much easier for brands to grant influencers more creative freedom to produce content.
To make the most of this influencer marketing trend, partner with influencers that really align with your brand's values. What's more, spend some time getting to know them well. Finally, consider using a CRM tool to better manage the chosen influencers.
3. Increased Demand for Real, Unfiltered Influencer Content
The charm of a perfect-looking feed is slowly dying out. While such accounts and posts were a treat to look at, they aren't what the audience wants anymore.
People expect influencers to put out real, unfiltered, unbiased content. This could include #NoFilter posts and content that gives people a sneak peek into influencers' lives.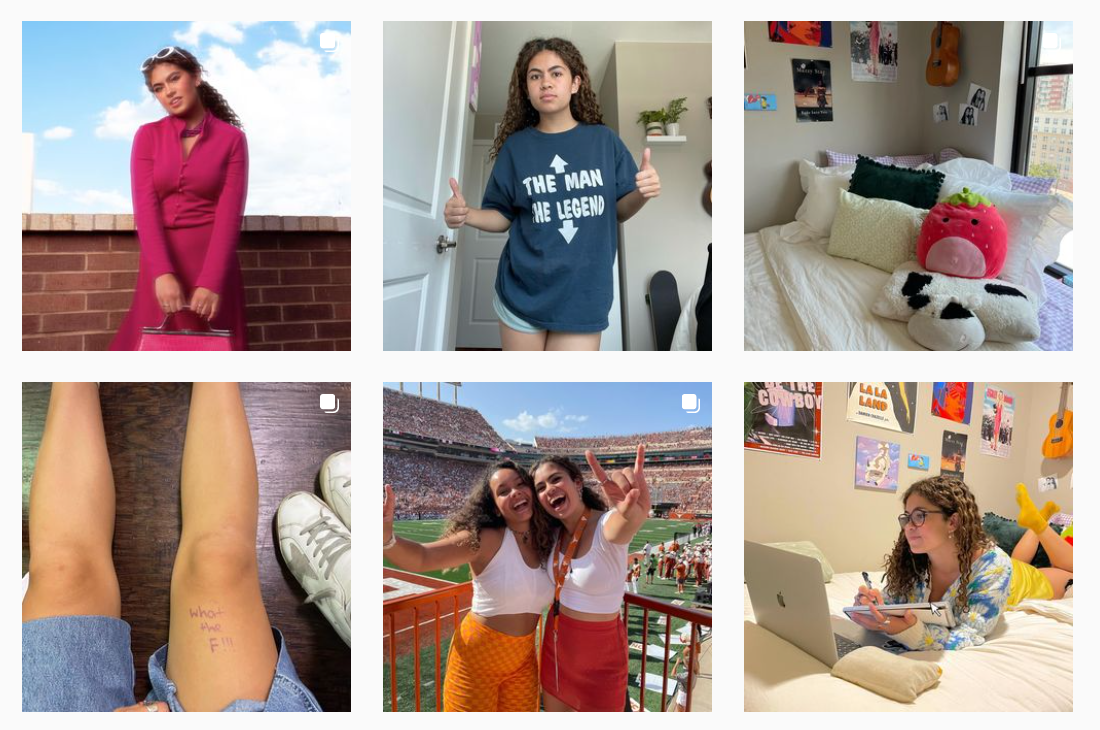 Image via Instagram
Captions that are written straight from the heart and honest feedback will also become highly sought-after.
The question is: how can brands capitalize on this influencer marketing trend?
For starters, you'll have to make sure that the influencer you're collaborating with is genuinely excited about your product.
In addition to that, encourage influencers to also talk about things they don't particularly like about your brand. This will go a long way in showing your brand's integrity and the influencer's authenticity.
4. Newer Influencer Marketing Platforms will Emerge
Gone are the times when influencer marketing was restricted to platforms like Instagram and Facebook.
2021 has made one thing clear—there's always going to be room for newer social platforms for influencer marketing.
Influencers are already making their presence known on platforms like TikTok. What's great is that TikTok's algorithm makes it extremely easy for users to go viral.
For example, popular TikTok influencer Bella Poarch raked up all her followers on the platform in just one month. This was the result of a lip-syncing video she shared, which has over 53 million likes today.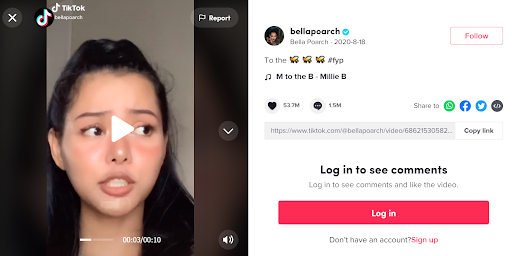 Image via TikTok
What's more, the future of influencer marketing lies in innovative tools and features specially designed for brands and creators. For instance, Facebook's Brand Collabs Manager can hugely aid brands in finding the right influencer for their needs.
5. Twitter Will Become More Popular
For many years now, Twitter's role in influencer marketing has been rather subdued.
This is because the platform is often perceived as more serious and less fun than its counterparts.
But here's the thing: using Twitter influencer marketing can enable brands to target a completely different demographic, without leaving out the youth.
Besides, it is often seen that conversations on Twitter continue in the offline space. Thus, the platform is highly effective in creating both an online and offline impact.
Brands are gradually starting to recognize this. They now see that although Twitter may require a slightly different approach, it's going to be an integral part of the future of influencer marketing.
6. Video Content Will Continue to Dominate
We live in an age of content fatigue. So, people want content that's engaging, as well as easy to digest. Video content fits both of these criteria.
This explains why the future of influencer marketing will be ruled by video content.
Besides, popular social media platforms seem to be encouraging video content themselves. TikTok, for instance, is completely video-based. Instagram too saw value in video and came up with Reels to keep up with the trend.
Take a look at travel influencer Aakanksha Monga's recent posts, each of which is a video: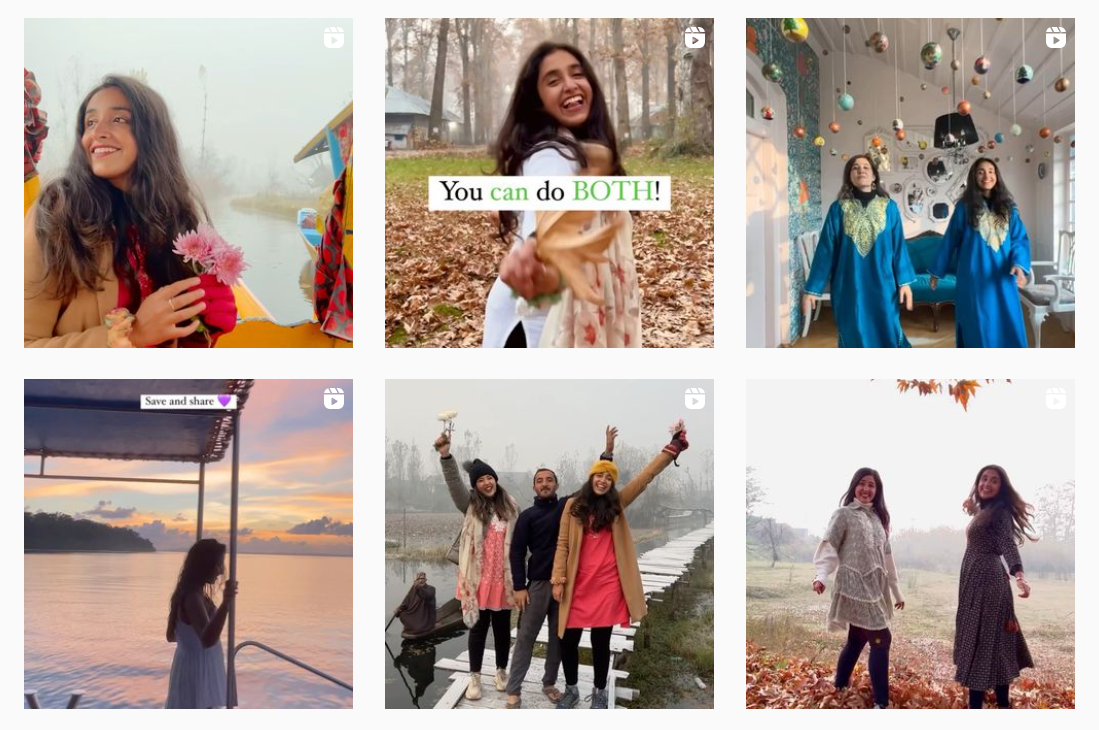 Image via Instagram
So, to make the most of influencer marketing in the coming years, have influencers post different types of video content. Experiment with testimonials, educational videos, and even live videos to see what works best for your brand.
7. A Greater Focus on Social Issues and Inclusion
The past two years really shed light on the lack of representation and inclusivity in the sphere of social media and influencer marketing.
Social platforms, along with brands, were called out for being anti-black, anti-fat, and so forth. This kickstarted a drive to inch closer to inclusion.
Naturally, this will require brands to change which influencers they choose to partner with. But simply collaborating with a diverse set of influencers won't be enough.
Brands will also have to go the extra mile by taking a stand on issues related to social justice that they have been able to shove under the rug in the past.
For example, the ice cream company Ben & Jerry's frequently posts about social and environmental issues on its social accounts.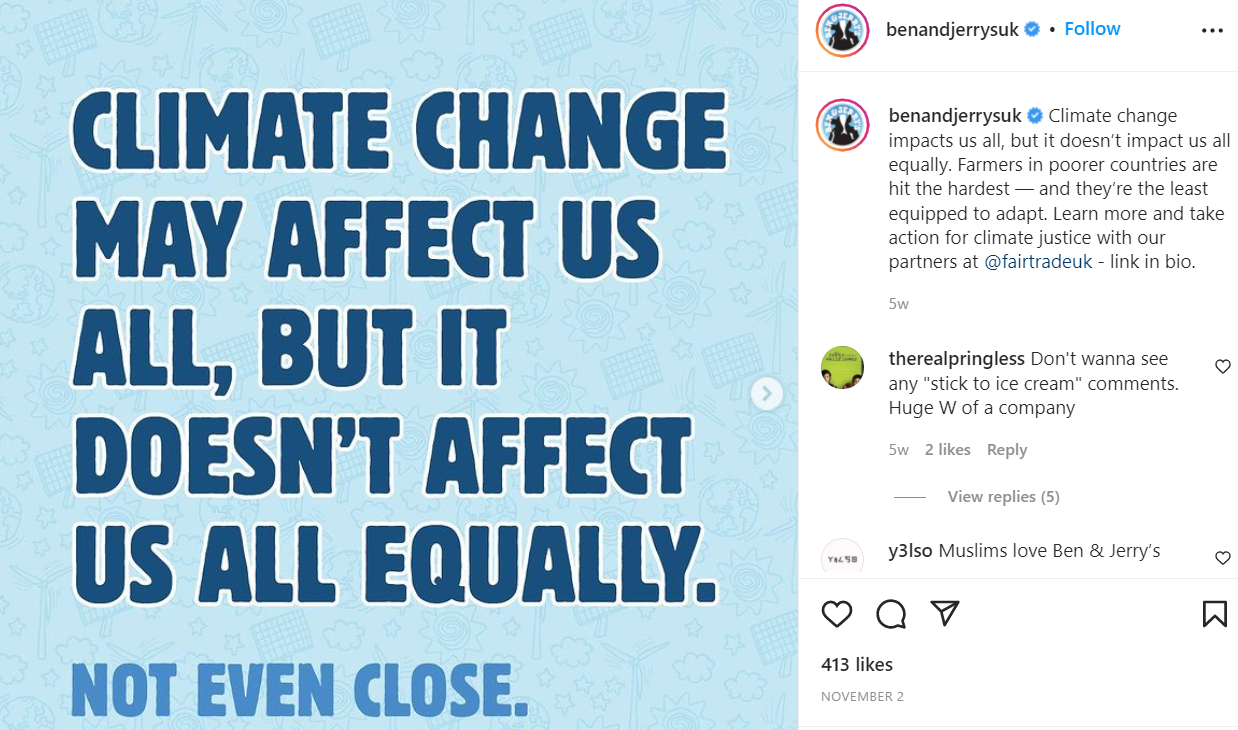 Image via Instagram
Remember—the future of influencer marketing is rooted in inclusivity and fair practices.
8. Non-Human Influencers will Start to Have Influence
CGI (Computer Generated Imagery) has moved beyond the movies today. It has entered the realm of influencer marketing.
Simply put, CGI influencers are created by developers and graphic designers. While their existence is fake, their influence is very very real.
There are several reasons why people would follow these influencers on social media.
For starters, they are entertaining. Furthermore, people are curious about these influencers, and their creators. Thirdly, CGI influencers are widely touted for giving helpful advice.
A recent study sheds light on the massive impact that these influencers can have on consumer behaviour:

Image via GRIN
So, how exactly can you partner with these CGI influencers?
Just like you'd partner with a human influencer!
CGI influencers are generally owned by influencer agencies, or in some cases, by businesses themselves.
The most popular CGI influencer out there is probably Lil Miquela. Big brands such as Samsung, Calvin Klein, and Prada have already partnered with her in the past.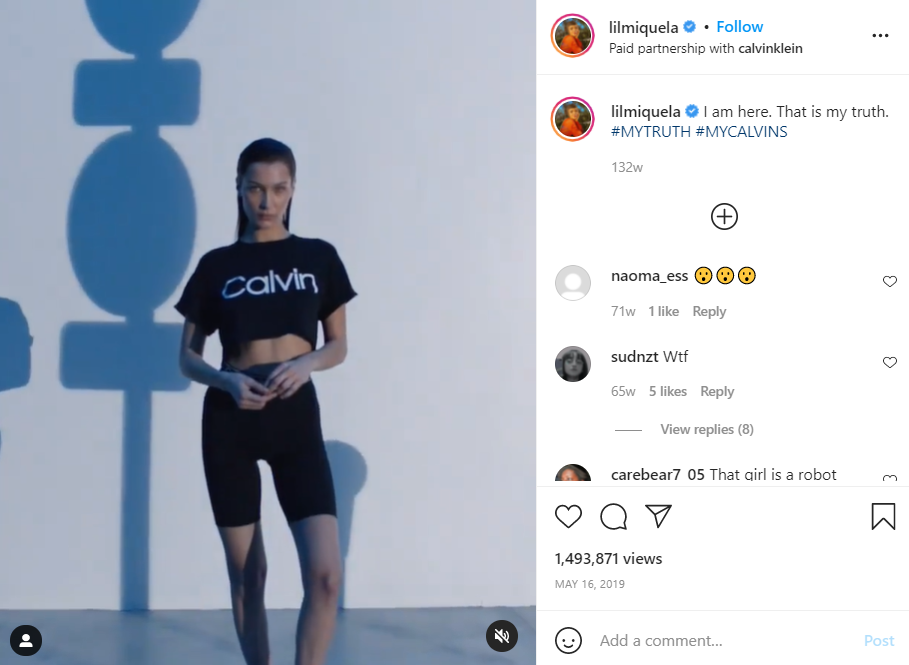 Image via Instagram
Clearly, the future of influencer marketing will be largely shaped by technology.
CGI influencers can help brands avoid human errors and keep things simple and straightforward.
Gear Up for the Future of Influencer Marketing
Whether you're just getting started with influencer marketing or looking to ramp up your strategy, you need to watch out for these predictions.
After all, if you don't keep up with the trends, you won't be able to generate a satisfactory ROI.
Which of these predictions do you think will definitely shape the future of influencer marketing? Share your thoughts in the comments below.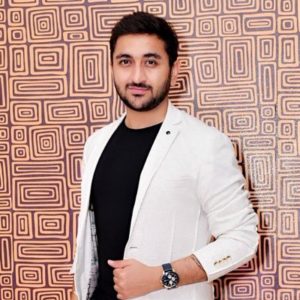 Gaurav Sharma is the founder and CEO of Attrock, a results-driven digital marketing company. Grew an agency from 5-figure to 7-figure revenue in just two years | 10X leads | 2.8X conversions |  300K organic monthly traffic. He also contributes to top publications like HuffPost, Adweek, Business 2 Community, TechCrunch, and more.
Social Media Profiles