It's understandable why you are reading a post on Twitter marketing strategy for ecommerce.
As I see it, there are two main reasons why ecommerce marketers focus on Twitter marketing.
1. The platform has a mammoth user base of 330 million monthly active users (as of Q1, 2019). For ecommerce marketers, Twitter is a goldmine of opportunities. They can leverage it to reach, engage, and convert a large number of people.
2. Of these 330 million users, 40% say their purchase decisions are directly influenced by Twitter influencers. Purchase intent increases by nearly 5.2x when branded Tweets are supported by influencer tweets about the brand. In short, Twitter has immense conversion potential, especially when it's used for influencer marketing.
If done well, Twitter marketing can generate high-quality leads, customers, and advocates for ecommerce businesses.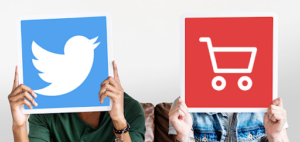 Are you leveraging the platform's full potential? No?
I don't blame you. Most ecommerce marketers devote time and budget to platforms like Facebook and Instagram without knowing that Twitter can be the answer to their prayers.
And, that's precisely why I've written this post. I'm going to discuss five ways to multiply your ecommerce sales using Twitter. All the tactics covered in this post are actionable, proven, and simple to implement. If that's the kind of marketing strategy you're looking for, read on.
How to Drive Ecommerce Sales Using Twitter Marketing: 5 Killer Ways
For Twitter marketing novices, here's something to chew on: Before you start selling on Twitter, you need to draw audience interest towards your brand. You can't simply bombard random people with promotional posts and expect them to convert.
Then what?
Make sure your followers align with your customer persona. Then, capture their attention by sharing interesting non-promotional content.
Once you have your target audience's attention, use the hacks below to boost your ecommerce sales.
1. Showcase Your Products Smartly
As you know, all social media platforms (including Twitter) are flooded with great branded content. To cut through the noise, you need to showcase your content in the best light.
Demonstrate how people can use your product and how it can simplify their lives. The aim is to encourage them to try or purchase your products.
Pixel-perfect pictures and product videos can help you highlight the anatomy, benefits, and usage of your products perfectly. Moreover, they help you stand out on the text-focused platform and grab eyeballs.
Example: Fenty Beauty presents real use cases of celebrities using their cosmetics. You can use user-generated content from your customers and influencers to make your posts more relatable.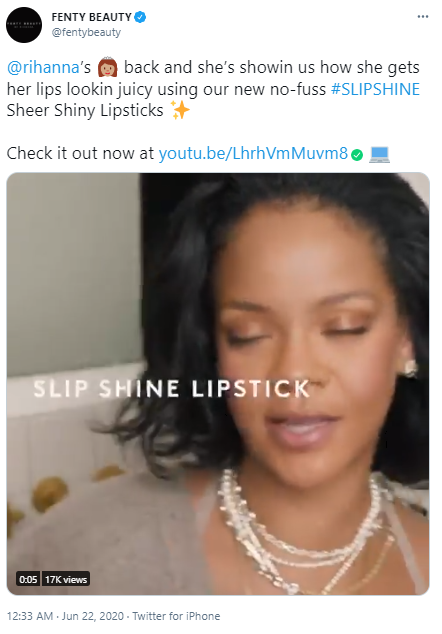 Image via Twitter
Want a pro tip?
Nothing frustrates social media users more than sluggish feeds. To create fast-loading pictures, compress your files before uploading them. There are tools to compress images without losing resolution. Use them to create product pictures that load fast and render well on small screens.
2. Leverage Twitter Cards
Ecommerce marketers often complain about a pain point while talking about Twitter marketing.
With a character limit of 280 characters, Tweets don't have much scope for detailed product information.
The solution?
Twitter Cards.
You can attach a Card to your Tweets to redirect users to your website, where you share in-depth information about your products. When you add a Card snippet to your website mark-up, a Card is inserted in your Tweets.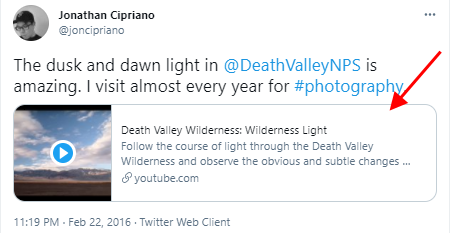 Image via Twitter
When people retweet your posts, a Card link is added to their retweets. This way, your visibility and website traffic increase, which can eventually translate into more conversions.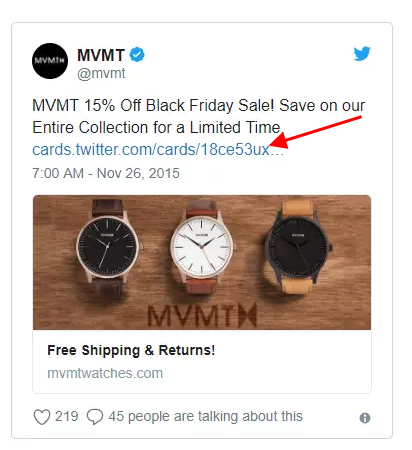 Fortunately, Cards don't have any character restrictions and come in a variety of formats, including:
App Card: Best for SaaS tool sellers since they allow direct app installs.
Summary Card (with/without thumbnail): Best to include product description + thumbnail.
Player Card: Best for sharing customer testimonials as videos, images, and audio clips.
Example: Fashion brand, Modcloth, embed coupons into their Cards to drive sales seamlessly from Twitter. With a single click, users are taken to the goodies page where they can redeem their coupon. That's effective ecommerce!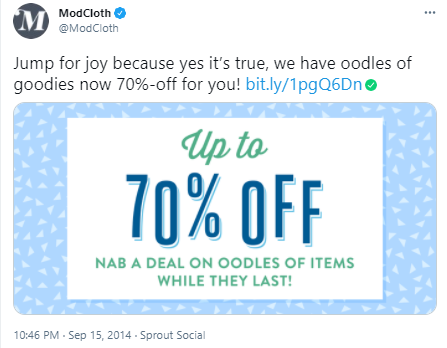 Image via Twitter
3. Let Influencers Drive Your Sales
As mentioned before, you need to embrace influencer marketing on Twitter if you own an ecommerce business. Influencers can help you boost sales as well as brand awareness and consumer trust.
But, to reap all of these benefits, it's crucial that you work with relevant influencers. Influencers who have worked with brands in your niche can be valuable assets.
Why so?
Their followers are most likely interested in the products that you offer.
They have foundational knowledge about how your products work so they can create authoritative content for your brand.
Their demonstrable work experience means assured ROI.
To find influencers who are a good fit, you can use tools for influencer discovery. They can scan thousands of profiles in minutes to identify influencers who match your domain, follower persona, and budget.
Once you've found and hired influencers, it's time to put them to work.
Have them create dedicated sponsored Tweets and product reviews for you. Let them spearhead contests and giveaways featuring your products.
Or, ask them to participate in expert interviews and panel discussions on your behalf, especially if they are industry experts. This way, you establish your authority and goodwill on the saturated platform, which can help win over customers.
Example: Popular opinion maker, Beth Comstock, gave a shout-out to makeup brand, Glossier, for their standout business strategies. She subtly slipped in a mention of her favorite Glossier product.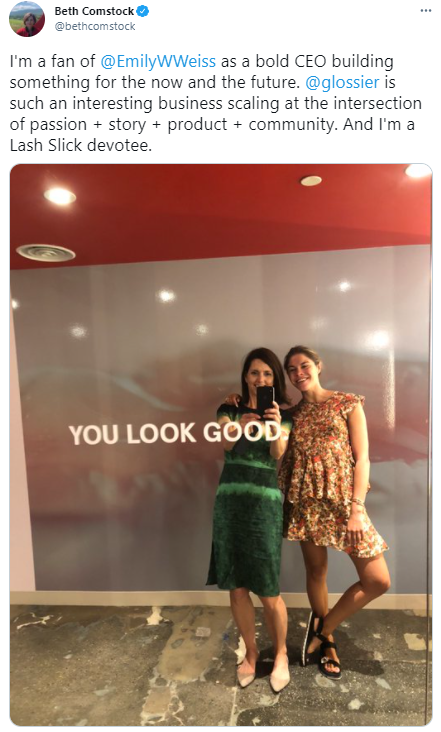 Image via Twitter
4. Provide Proactive Customer Support
Customer support should be a priority for all progressive ecommerce marketers. If you're smart, social media platforms like Twitter become a powerful touchpoint to connect with customers and address their concerns on a one-to-one basis. It all adds up to a superior customer experience that sets you apart from the competition.
Ecommerce brands are using Twitter in many innovative ways to reach and engage their customers.
Like what?
Twitter Chat
Using Twitter Chat, you can interact with individual customers to find out and resolve their problems. When combined with social listening, Twitter Chat can also help with crisis management. You can tap into customer issues in the early stages before they get blown out of proportion and damage your reputation.
Example: Zappos replies to a customer gushing about their timely delivery within minutes of her tweeting about it. Who doesn't love that kind of personalized attention?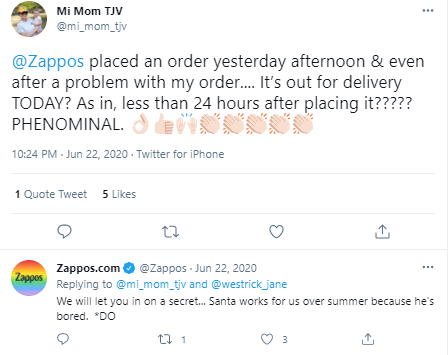 Image via Twitter
Here's another example of Zappos' phenomenal customer service: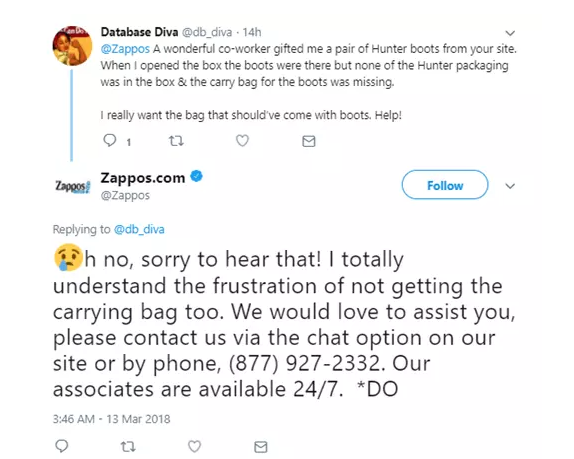 Image via Twitter
Twitter Polls
You can use polls to gather instant insights about your existing and potential customers. You can ask pointed questions about your products/brand and actually get into your customers' minds.
Example: Old Spice uses a poll to find out which of their products (Ultra Smooth or After Hours) has a bigger market share.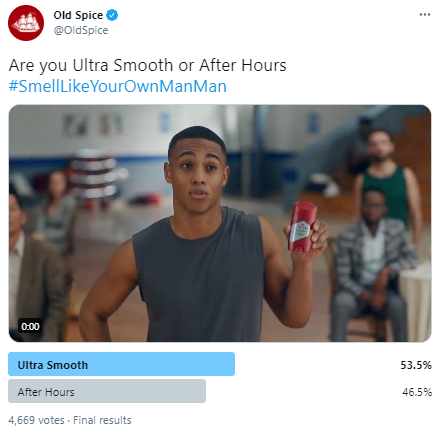 Image via Twitter
5. Use the Power of Twitter Ads
Sales are the lifeblood of ecommerce, more so if you've just started your online store. You need a steady income stream to scale up and grow as a brand. That's where Twitter Ads enter the picture.
Twitter Ads have a targeted reach and trackable performance. You will know exactly how your ad is performing, which helps justify your marketing expenditure.
Twitter offers many kinds of ad campaigns, each with a unique objective. I recommend ecommerce brands opt for brand awareness or website click campaigns.
No matter which campaign type you choose, follow these best practices to boost your advertising ROI:
Use personalized ad copy to match Twitter's conversational vibe.
Power your ads with visuals to stand out from the crowd.
Leverage remarketing to target users who resemble your website visitors.
Example: Daily Harvest uses an enticing video ad to promote their organic food products. The ad has everything going for it – crisp copy, visuals, and clutter-free layout.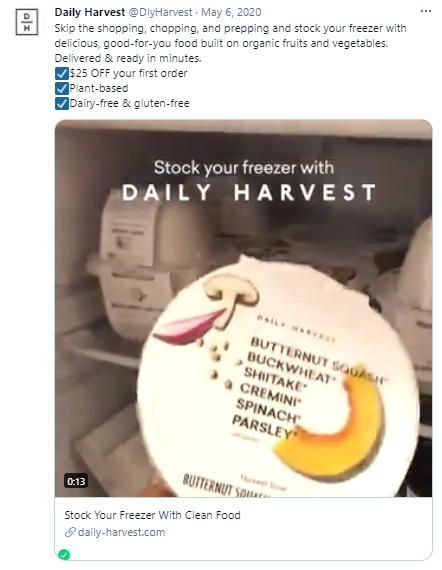 Image via Twitter
Conclusion
As you can see, Twitter is a powerful sales and marketing tool for ecommerce. It can also double up as a customer service platform. There are endless possibilities of how ecommerce brands can use the platform to grow their awareness, credibility, and revenue. But the five tactics I've mentioned above can give you a great head start.
Do you need more tips on Twitter marketing? Leave your requests in the comments. I'll be back with some more great hacks and tools soon.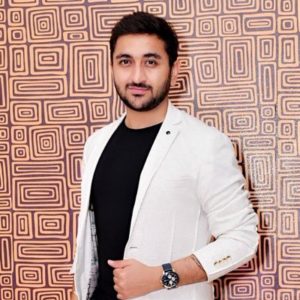 Gaurav Sharma is the founder and CEO of Attrock, a results-driven digital marketing company. Grew an agency from 5-figure to 7-figure revenue in just two years | 10X leads | 2.8X conversions | 300K organic monthly traffic. He also contributes to top publications like HuffPost, Adweek, Business 2 Community, TechCrunch, and more.
Social Media Profiles
Instagram: https://www.instagram.com/gaurav_sha/