Want to learn how you can leverage social media to promote your webinar and get more attendees? Here's the complete list of strategies that you can use.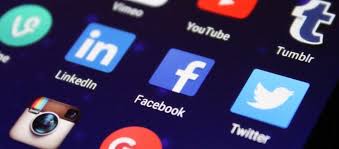 Creating or hosting a high-quality webinar is one thing. However, marketing it and getting people to attend it is a whole different ball game.
To promote your webinar, you'll need to use different marketing methods, and social media works out as a great way to go about it.
You may ask, "Why use social media?"
Because social media has nearly 4 billion users, which translates to about 50% of the world's population.
Which means you can easily find your target audience and reach them so that you can get them to attend your webinar.
However, getting things done on social media is easier said than done. So, to help you out, we've put together a list on how you can use social media to promote your webinar.
Promoting Your Webinar on Social Media
Here are some of the best ways you can promote your webinar on social media:
1. Create Visual Posts
The first and most important step of promoting your webinar on social media is to create high-quality posts for it.
Try your best to keep your posts visual-oriented. The reason for this is that visuals tend to attract the attention of social media users better than other types of content such as text.
When you're creating these posts, make sure you create a separate post for Twitter as it helps to upload images and videos directly on the platform.
For each post, come up with a great caption that complements the visuals and incorporate your branded hashtags into it too. You can use hashtag generators to come up with engaging hashtags for your posts.
What's more…
You should also include a clear call-to-action (CTA) in your posts so that your audience knows exactly what they need to do next.
Remember, without a CTA, you shouldn't assume that your audience will register for the webinar.
Note how I've added a clear CTA and caption to my post here.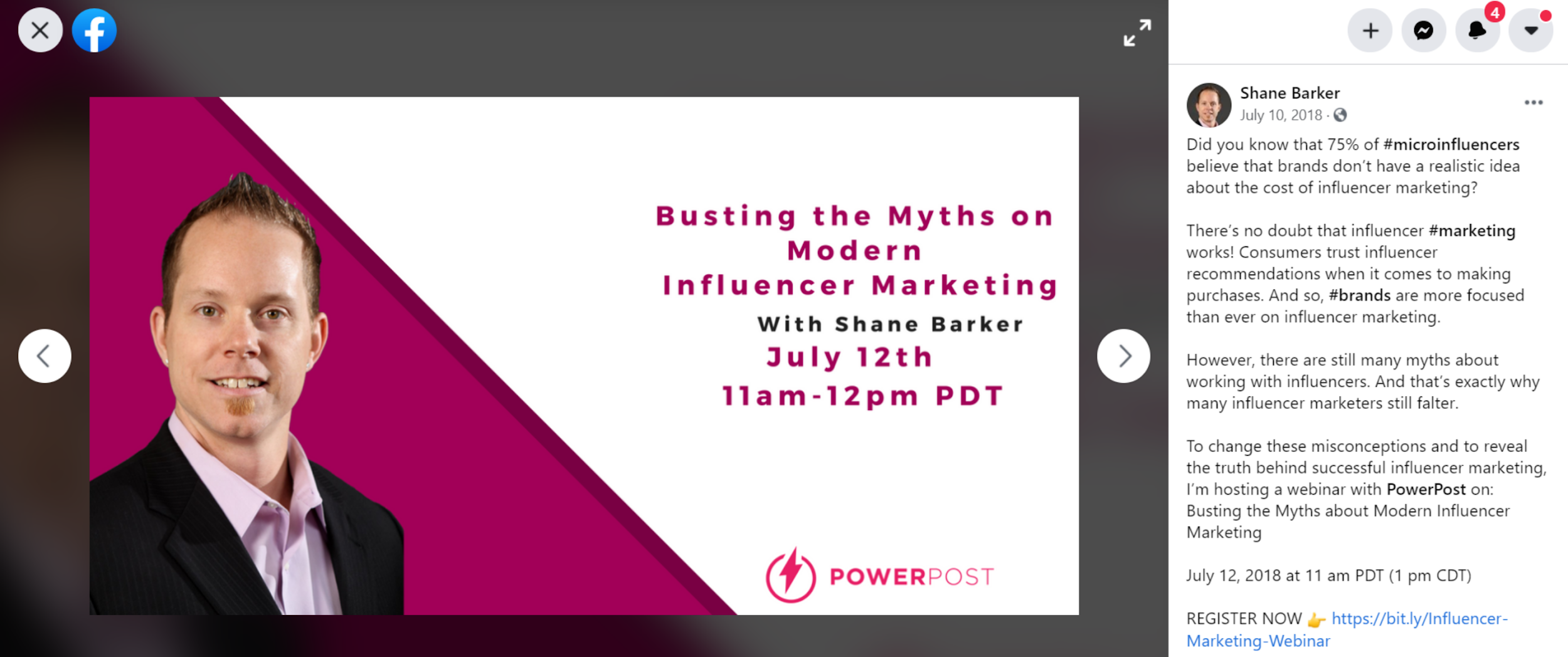 Image via Facebook
2. Schedule Your Posts
The next thing that you need to do is to start publishing your posts on social media. However, this can get tricky as you need to find the right time to post your content.
And that's not all!
You also need to maintain consistency while posting content as this can help you remind your audience about your webinar.
For this, you should schedule the posts in advance using scheduling tools for social media. Using these tools, you can schedule posts for multiple platforms.
3. Create a Landing Page
You also need to create a landing page for your webinar through which your audience can register for it.
This is also the page that you need to link to in your social media posts.
And for this reason, it's critical that you design the landing page such that it nudges the visitors to register for the webinar.
How can you design the webinar landing page, you ask?
You should add a short registration form that asks for relevant details. It's also essential to ensure that the copy of your landing page is nothing short of awesome.
Along with the copy, you should also incorporate visuals into your landing page. Together, they'll compel the visitors to register for your webinar, so make sure that you ace them.
Note how SEMrush has created a separate landing page for their webinar.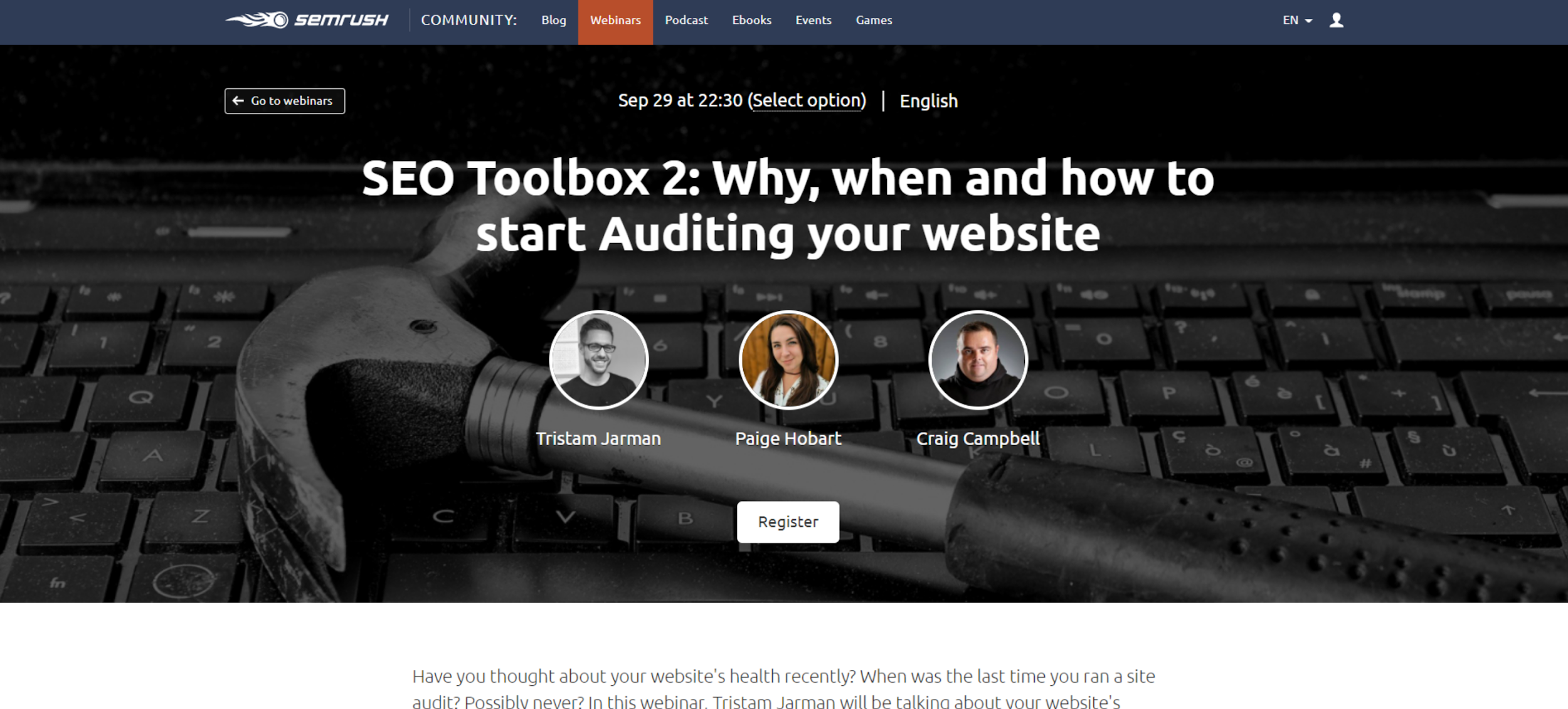 Image via SEMrush
It also helps to add short teaser videos. If you're hosting an on-demand webinar, then you can even share clips from the webinar on the landing page. And to create an on-demand webinar, you can use platforms like FLOW.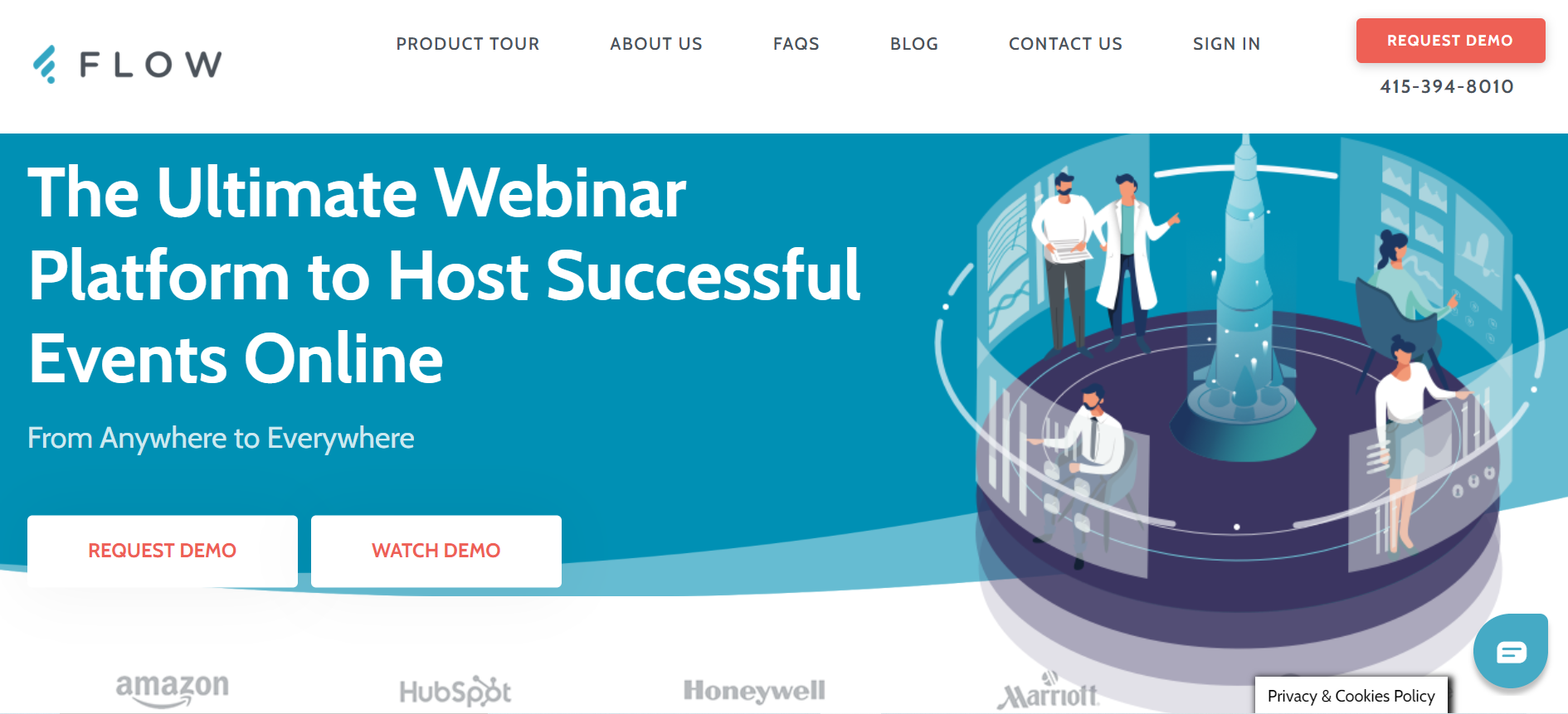 Image via Flow
4. Run Social Media Ads
You won't be able to reach a massive audience through organic posts. To get more registrations for your webinar, it's essential that you leverage paid promotions on social media.
But why?
Through paid social media ads, you'll not only be able to expand your reach but will also be able to boost traffic to your landing page. This, in turn, can drive more registrations for your webinar.
However, to run these ads well, you'll need to get your target audience right. So make sure that you know exactly who your audience is.
If you don't have a big budget to promote your webinar, you can choose to promote only those posts that are performing well organically.
These are the ones that are most likely to perform well when you boost them and they can help you grow your engagement.
5. Optimize Your Landing Page
Creating your landing page isn't enough. You also need to optimize it so that you can figure out how to get more registrations through it.
But how can you do this?
You can add social sharing buttons to the landing page so that those who are interested in the webinar can share it with others too.
And that's not all!
You should also add social sharing buttons on the thank you pages to increase the chances of people sharing your webinar with their circles.
Also, you should leverage features like the Facebook Pixel or use a heatmap tracking tool to find out how your visitors are interacting with your landing page.
You can then run A/B tests on your landing page and figure out which elements help you get more registrations.
Accordingly, you can modify the layout of the page and drive more registrations for the webinar.
6. Pin Webinar Posts
One of the best social media tips is that of pinning the posts related to your webinar on your social media accounts.
When you pin the posts, you'll be able to get added visibility, because whoever visits your profile will be able to see these posts.
And you want to know the best part?
You can do this on both Twitter and Facebook.
As a result, you'll benefit from a greater reach on these posts.
When it comes to Instagram, you can add a link to the webinar landing page in your bio and direct everyone to click on it.
7. Change Cover Photos
One of the best ways to get even greater visibility for your webinar on social media is to change your cover photos.
You can design a customized cover photo for each social platform and promote your webinar through them.
But why cover photos?
Cover photos are the largest visual elements on any social media profile. When you promote your webinar in them, anyone visiting your profile will likely notice it.
This can help you give added visibility to the webinar.
What's more?
You can also add the link to your webinar landing page in the cover photo. When you do so, people will be able to directly navigate to the landing page with ease.
Final Thoughts
Whether you create a live webinar or an on-demand one, it's essential to promote it well to get attendees.
Social media is a great place to do so and you can leverage visual posts to get the attention of your target audience.
Additionally, you should schedule these posts well for maximum impact. Its also equally important to design a high-converting landing page. You should put effort into optimizing it as well.
In Summary
Running social media ads can help you reach a wider audience. You should also consider changing your cover photos and pinning posts related to the webinar.
Do you have any questions about the methods mentioned above? Ask them in the comments below and I'll reply to them.
Shane Barker is a digital marketing consultant for 15 years with an emphasis on Influencer Marketing in the last 5 years. He is specialized in sales funnels, targeted traffic and website conversions. He has consulted with Fortune 500 companies, Influencers with digital products, and a number of A-List celebrities.
Social Media Profiles == >
https://www.facebook.com/ShaneBarkerConsultant
http://www.twitter.com/shane_barker
https://www.youtube.com/channel/UCiD3HGr_vpDp0ApavL-bEGA
https://www.instagram.com/shanebarker/
https://www.linkedin.com/in/shanebarker/