Want to boost your social media presence and grow your small business using social media marketing? Use these 7 effective tips to achieve your business goals.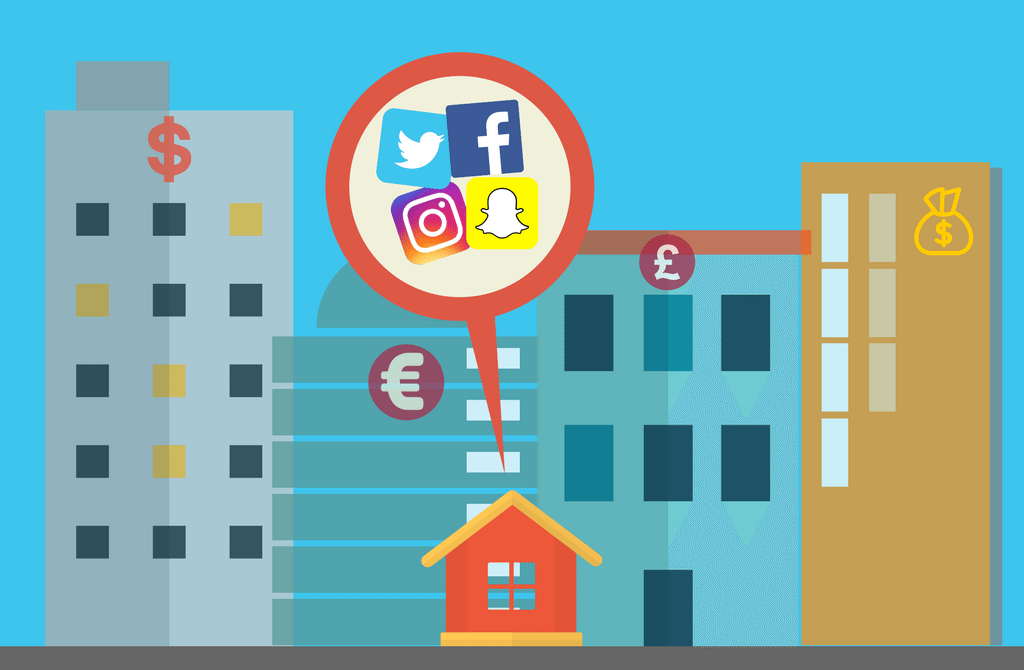 Social media marketing is an effective and affordable way for small businesses to reach their target audiences. You can find, engage, and convert relevant leads using social media.
Even though it is a highly competitive and dynamic environment, there are some things that never change. If you know how to do it right, social media marketing can help you grow your business multifold.
In this post, we've compiled a list of 7 effective social media marketing tips to help grow your small business. Let's get started.
1. Create a Social Media Marketing Plan
The first step towards social media marketing success is to have a solid strategy or plan. This will help you understand what you want to achieve and how you are going to do it.
This clarity is required to ensure that your social media marketing efforts are targeted and aimed at achieving specific goals. Here are three aspects that you need to cover while outlining your social media marketing plan.
Goals
Identify and list the goals that you want to achieve via social media marketing. Do you want to drive traffic to your website or simply strengthen your social media presence? Maybe, you would also like to drive sales conversions or generate leads using social media?
Whatever your goals are, list them and identify the key performance indicators (KPIs) that you can use to measure your performance on these goals. This is important as they will help you determine the success or failure of your social media marketing initiatives.
Audience
Before you start investing time and effort into social media marketing, you should know whom you want to target. Define and understand your target audience.
Collect audience insights from the platforms that you're currently present on, like a website or blog. Listen to social media conversations related to your brand, competitors, and topics in your niche.
These will help you understand your target audience better and will lay the foundation for your choice of platforms and content strategy.
Content
Your social media marketing plan should also include your content strategy. This means you should list the type of content that you plan to post on social media.
This will depend on your target audience's preferences and general social media content research. You should plan to include content types that get the most views and engagement on social media, but more on that later.
2. Choose the Right Platforms
This should also be a part of your social media marketing plan but deserves a special mention on its own. Your choice of platform is very important in determining the success of your social media endeavors.
Therefore, be very diligent in doing your research and selecting the right platforms. Your choice of platform depends on:
Audience – Select the platforms where your target audience is most active.
Type of Business – B2B companies usually prefer platforms like LinkedIn or Twitter, while B2C businesses favor Instagram and Facebook.
Content – Do you prefer short posts that you can quickly create and publish every day? Would you rather create engaging videos weekly or biweekly?
Goals – Some platforms like Instagram are better for sales conversions due to their visual nature. For driving traffic or leads it might not be as effective as it does not allow sharing links in captions.
You need to evaluate the pros and cons of each platform and stack them against your social media marketing goals. Then, select the platforms that can most effectively help you achieve your goals.
3. Make a Content Calendar
Once you have a clear social media marketing plan, it is time to actually start creating and posting social media content. But, you shouldn't do this randomly and should have a proper schedule.
Decide the posting frequency for each of your social media platforms and prepare a content calendar. This should include the details of when, what, and where to post.
You can leverage tools for social media that can help you create, schedule, and publish your posts as per your plan. Some of these tools also have the option to create a content calendar right from their dashboard.
4. Interact with Your Audience
As a small business, you have the opportunity to connect with your audience on a level that large businesses just can't. You have a comparatively small and targeted audience. And, if you take the time to interact with them, you could turn them into loyal customers.
So, respond to your followers' comments on your posts, reply to personal messages. Most importantly, resolve any issues that your customers post on social media.
If you are present on many platforms then you can get the help of third-party tools to manage multiple social media accounts from one place. Most of these tools provide an integrated social media inbox that you can use to respond to user comments on different platforms.
5. Create Engaging Content
There are certain types of social media content that are more engaging and can help you attract and retain social media followers.
Visuals, for example, work better than text at engaging your audience. You can choose from images, carousel, videos, live videos, GIFs, infographics, and other visual formats.
Here are some tips to create engaging social media content for your audience:
Use humor in your social media content in the form of one-liners, memes, GIFs, etc.
Conduct polls, quizzes, and contests to improve your engagement rates.
Share actionable tips, tricks, and hacks.
Create tutorials or how-to videos.
Use high-quality visuals.
Create content that evokes an emotional response in your audience.
Incorporate one or more of these into your social media content plan and engage your audience.
You should also be cognizant of the kind of content that your audience prefers. A lot of times, popular content that generally works might not work for your audience.
This can be seen from the Instagram page of TED Talks, which is a brand know for its inspiring videos. Their Instagram feed has a mix of image and video posts, but their IGTV and other video content get much more engagement than any other content.
Here's a recent video post from Ted Talks that got over 153k views.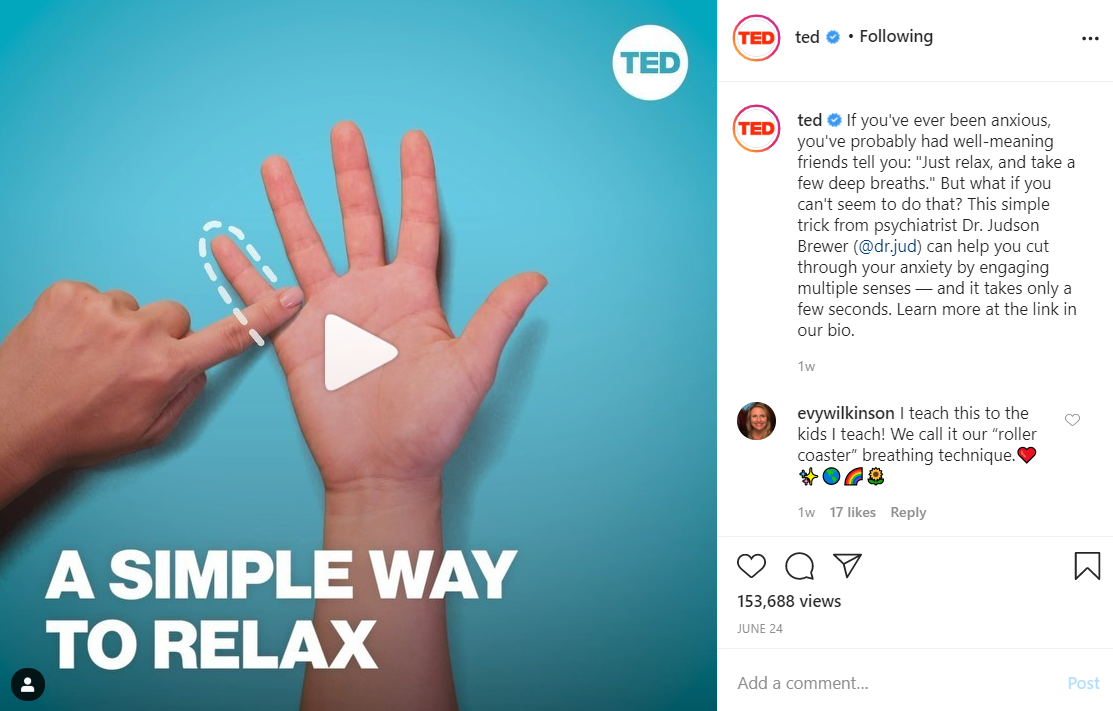 Image via Instagram
This is a classic example of the fact that people expect a certain type of content from your brand. Find out what your audience engages with the most and create similar content.
6. Maintain a Consistent Brand Voice
One secret formula for building a strong and distinct brand image is to have an easily-identifiable brand voice. When people look at your content, they should be able to immediately identify it as your brand's content. Whether you run a business or want to build a personal brand, this tactic can help you immensely.
The key to achieving this is to find your brand voice and aesthetic and then keep it consistent across all your brand's content on all platforms. This can be done by adding distinct brand elements to your content.
This could be your logo, your brand's colors, tone, fonts, and any other element that can help people distinguish your brand's content form others.
Coca Cola, for example, has a very recognizable brand because of its use of red, black, and white colors in its content. They also add their brand logo to most of their content.
Here is a screenshot of Coca Cola's Instagram page. You don't need to look at anything else to identify the brand as it is clear from the content itself.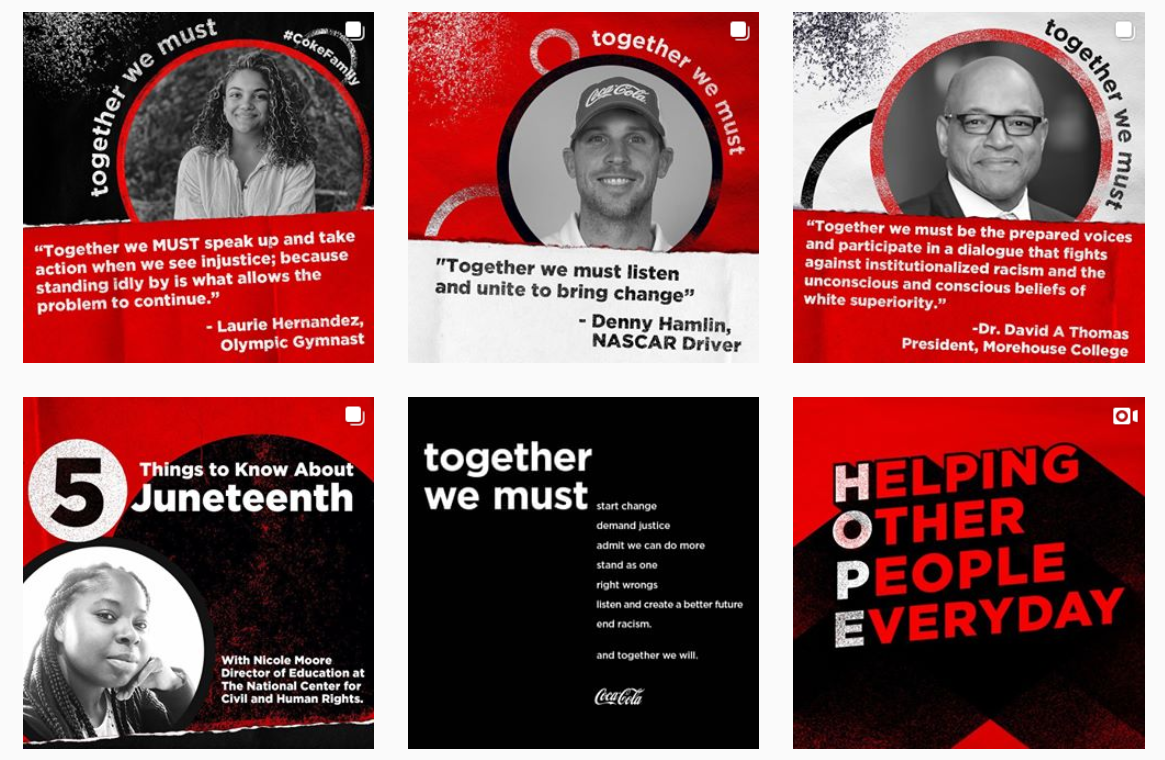 Image via Instagram
7. Leverage Analytics to Measure Performance
As a small business, you need to understand the impact of your social media marketing initiatives and identify areas for improvement. You can do this by using social media analytics tools to track and measure your performance.
You don't need to invest in expensive analytics tools for this, but can use free tools. Almost all social media platforms come with their own built-in analytics tools. These can provide you with insights into your content's performance and account growth.
To measure website traffic growth you can use Google Analytics. Just look at the traffic sources for social media referral traffic. This can give you an idea about how successful your initiatives were in increasing traffic.
What Next?
These are tried-and-tested strategies to help you get the best results from your social media marketing initiatives. Use these tips to boost your social media presence, gain more followers, drive conversions, and increase lead generation.
Try these tips for your small business and let us know how well these worked for you in the comments below.