You should notice a couple new links on the left sidebar, below the main navigation. The first is an export link that will download a CSV (comma separated values) file of click data for all links in your account.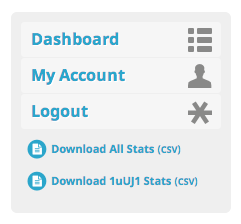 If you are viewing the stats of a specific link, another link will appear in the sidebar to download the click data from just that link.
This has been a highly requested feature and we hope this helps everyone get better insight into their CTT activity. If you have any ideas on how to expand this data, please let us know via a support request.