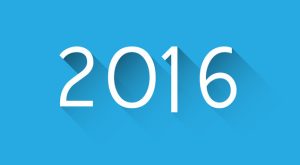 Twitter is one of the leading platforms for discussing the latest news and events. The tweets of politicians, celebrities and influencers from every realm of society are often more widely quoted than their interviews on TV stations or newspapers.
Of course, Twitter is also a very democratic platform, so millions of ordinary people are also free to express their views. Twitter has put together a video compilation called #ThisHappened, a composite of some of 2016's most memorable events as noted on Twitter.

The Olympics: The Number One Event on Twitter
Even in a presidential election year, the summer Olympics in Rio de Janeiro, Brazil was the most widely tweeted event in the world. In fact this global event produced a total of 187 million tweets. #Rio2016 was the most popular hashtag of the year. Some of the most popular of them were from leading athletes such as Usain Bolt, who tweeted:
"Congrats to Brasil football team on winning gold!"
The 2016 Election
Twitter really exploded during the election. This, of course, was an event that really took up the whole year when you think of the primaries, the campaigning for the actual election and then all the controversies following the election. On election day alone, there were around 40 million tweets about the election. Twitter had a large impact on the presidential campaigns and election.
Donald Trump became notorious for his controversial tweets. However, there were many popular tweets by Hillary Clinton as well. The most retweeted political tweet from the election was from Hillary Clinton:
"To all the little girls watching…never doubt that you are valuable and powerful & deserving of every chance & opportunity in the world."
The second most retweeted political tweet was also from Clinton, in which she taunts Trump:
"Delete your account. twitter.com/realDonaldTrump."
The third most retweeted political tweet came from Trump, repeating one of his favorite slogans:
"Today we make America great again!"
Although Trump was widely criticized and mocked for his tweets, his use of the platform may have helped him win the election. Prior to the election, it was noted that Trump had a significantly larger social media following than Clinton. Trump has 17 million followers, while Hillary Clinton has 11 million.
Pop Culture Events on Twitter
Some of the most popular topics on Twitter were related to pop culture. The interactive game Pokemon Go was another of the year's biggest trends on Twitter. Players and haters alike tweeted extensively about this game. Some of the tweets commented on the game's comic aspects as well as tragic consequences, as when careless players had accidents and criminals took advantage of players' willingness to travel to dangerous places.
The latest Star Wars films created quite a bit of Twitter buzz. Star Wars: The Force Awakens was released late in 2015, so it was still being widely discussed in 2016. As the year ends, the latest movie in the franchise, Rogue One: A Star Wars Story is currently a trending topic.
Fans of television shows were quite vocal as well, with Game of Thrones leading the list. The Oscars also inspired many tweets. Host Chris Rock along with Best Actor winner Leonardo Di Caprio were among the most popular topics.
Twitter Says Farewell to Some Famous People
Quite a few legendary actors, athletes and other luminaries passed away in 2016, making #RIP one of the top hashtags of the year. Their deaths were widely discussed on Twitter. One of the biggest names on this list is boxer Muhammad Ali, who died on June 3, at the age of 74. Some of the leading tweets about Ali include one from Donald Trump:
"Muhammad Ali is dead at 74! A truly great champion and a wonderful guy. He will be missed by all!"
Fellow fighter Mike Tyson also paid his respects:
"God came for his champion. So long great one."
Actor and comedian Gene Wilder, best known for his roles in Willy Wonka and the Chocolate Factory and The Producers, also died in 2016. Long time friend and collaborator Mel Brooks tweeted:
"Gene Wilder-One of the truly great talents of our time. He blessed every film we did with his magic & he blessed me with his friendship."
A couple of iconic musicians also passed away in 2016. Prince, who was only 57, died in April. Fellow pop star Michael Jackson tweeted:
"Another great artist gone too soon. The world will always have the joy of his music. RIP Prince."
When British rock star David Bowie died at the age of 69, more than 4 million people paid their respects on Twitter. Mick Jagger tweeted:
"We had so many good times together. He was my friend. I will never forget him."
Top Hashtags of 2016
The top ten hashtags of 2016 were
#Rio2016
#Election2016
#PokemonGo
#Euro2016
#Oscars
#Brexit
#BlackLivesMatter
#Trump
#RIP
#GameofThrones
Euro2016 refers to the UEFA European Championship, a hugely popular football or soccer tournament held over the summer. Brexit was the controversial decision of England to withdraw from the European Union. Twitter became a major platform for the Black Lives Matter movement after controversial police shootings in cities such as Ferguson, Missouri.
Twitter Reports on and Impacts the Biggest Events
Twitter's #ThisHappened summary showcases how central social media, and Twitter in particular, have become to society. In an age when many people get their news online rather than on TV or from print media, Twitter gives both famous and everyday people a way to express their thoughts and emotions in a few key words.
In many cases, images and links are included along with the tweets. This was particularly true for certain subjects such as the Olympics. There were also many humorous images that accompanied tweets about Pokemon Go.
As #ThisHappened illustrates, social media not only reflects people's reactions to events, it impacts these events. This is most obvious in the election, but it's also true of social movements such as Brexit and Black Lives Matter as well as pop culture phenomenon such as Pokemon Go. In the coming years, Twitter and other social media platforms are likely to have an even bigger influence on world events.