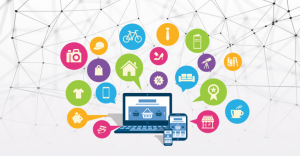 Everyone who owns a business constantly looks for ways to grow it. And one of the most effective ways to do so is to gain more visibility on social media. But how exactly do you use social media to grow your business?
Facebook's recent policy changes have made it pretty tough for brands to get visibility. However, Instagram and Twitter still hold great potential for businesses looking to promote themselves on social media.
93% of people who follow businesses on Twitter said they planned to make a purchase from them. 68% of them have admitted to buying something at least once from businesses they follow on Twitter. It's a great platform to build relationships with your customers and also to engage with them.
If you're still trying to figure out how to use Twitter to grow your e-commerce business, we've got you covered. All you need to do is to invest some time into understanding the basics of promotion on Twitter.

1. Tailor Your Content

Twitter works very differently from Instagram and Facebook when it comes to content. On Twitter, users are allowed to only use a maximum of 280 characters per tweet. So you need to make sure you can capture the gist of your message within this word limit.
Twitter content needs to be crisp and concise, yet interesting enough to engage your audience. Use relevant hashtags to get more visibility. However, don't overuse them as this can put off your audience. It is advisable to use a maximum of two hashtags in every post.
If you want genuine followers on your Twitter page, you'll need to come up with fun and creative content. Try to keep the tone of your tweets conversational, not promotional. This way, you can make sure that your audience remains interested in your content.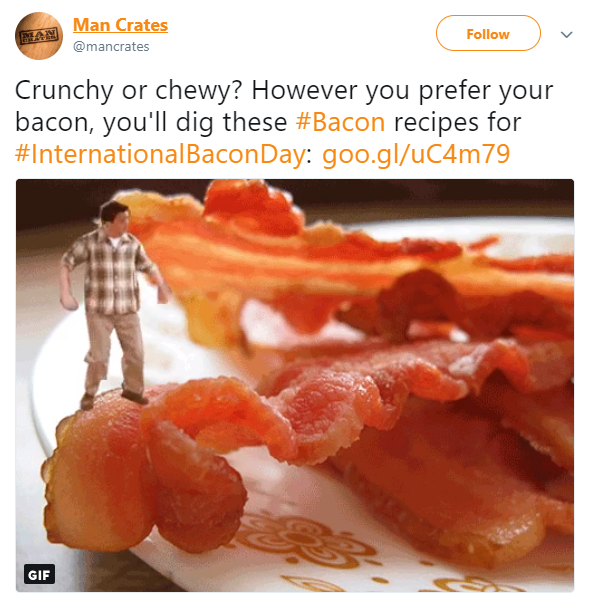 Image via Twitter
For example, Man Crates' post about International Bacon Day was aimed at starting a conversation about bacon. Even though they talk about bacon recipes in the post, they also promote their food crates subtly. They also used hashtags to get more visibility. The bottomline is: Get in on whatever's trending on Twitter.
If you post content about something that's already popular, you're likely to gain more traction on Twitter. So keep an eye out on the trending section on Twitter every day.
2. Offer Discounts

Reward your customers for following you on Twitter by offering them special discounts or promo codes. With this, you give them an incentive to purchase your products or services as well. It will definitely help you boost your conversion rates.
If you want to take things up a notch, you can also collaborate with influencers and bloggers. Ask them to share a review of your products along with unique discount codes or affiliate links. Giveaways are also a good way to promote your e-commerce business. This way, you can reach a wider audience that you may not have access to otherwise.
Ask influencers to tag your Twitter account in their posts. This will ensure that your brand gets more visibility, followers, engagement, and credibility.
Beauty blogger, Andreea Cristina, has more than 13,000 followers on Twitter. She regularly collaborates with big and medium-sized business to boost their visibility and sales.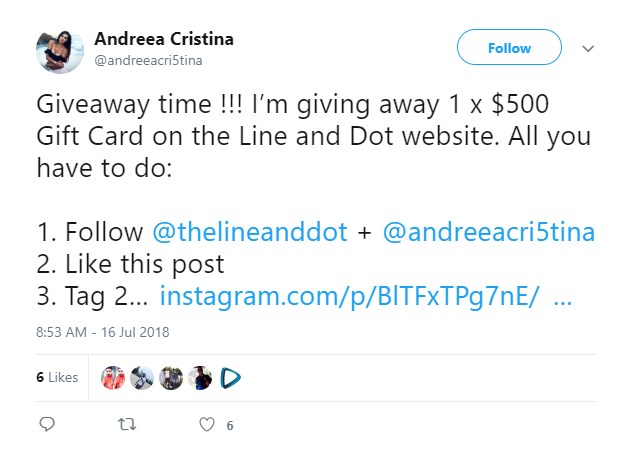 Image via Twitter
You can also hold contests to gain some extra mileage on Twitter. Ask your followers to complete some tasks and encourage them to like and retweet your content. This is a fun way to engage them while you promote your brand.
3. Offer Good Customer Support

Twitter is all about engaging with your customers to build long-term relationships with them. To ensure your customers find you easily-approachable, provide good customer support on Twitter. It can be a quick and hassle-free way for customers to get their problems fixed.
As an e-commerce business, you should leverage Twitter to respond to customers' queries. Respond to them if they tweet about their problems or complain about dissatisfaction with your products. When you respond to your customers efficiently, you send a message that you care about them.
By doing this, you can improve customer experience and also gain more credibility. An e-commerce business can only be successful if they can provide effective customer support.
Amazon actually took this strategy a step further. They created an exclusive Twitter account to respond to customer queries.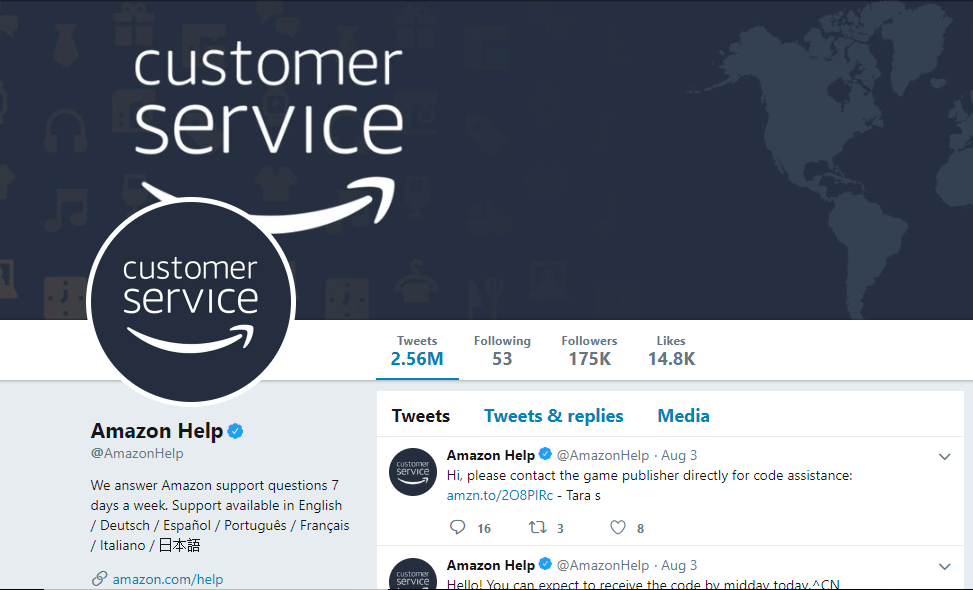 Image via Twitter
They created @AmazonHelp not to gain followers, but to provide an easy way to answer questions from their customers. If you scroll through their main account, you will also find queries that have been solved. Some customers have even thanked them for their responses.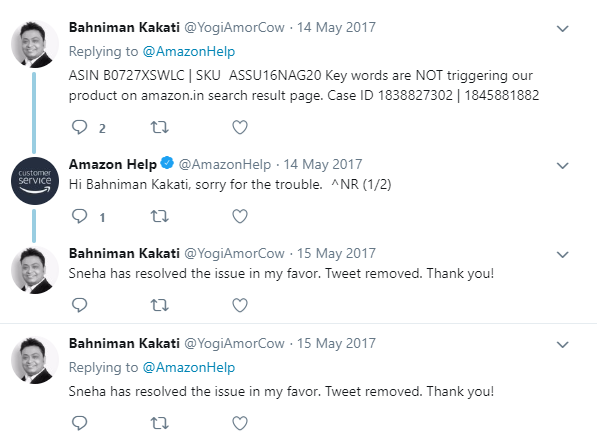 Image via Twitter
If you can keep your customers happy on Twitter, they may even endorse you or spread a few good words about you.
4. Showcase Testimonials

If you want to give your sales funnel a boost, advertising your brand is not enough. You need to showcase the experiences of other people who have already used your products. Social proof will help you build credibility and gain the trust of potential customers who browse through your Twitter feed.
Encourage your customers to tweet their reviews, photos, or videos that feature your products. Ask them to tag you and to use a branded hashtag to generate some extra buzz. You can share their stories on your Twitter profile to add more credibility to your brand.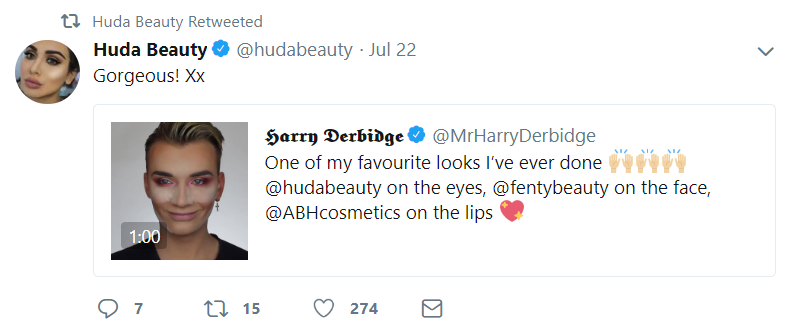 Image via Twitter
Makeup brand, Huda Beauty, has used this strategy to gain more credibility. Their Twitter account showcases videos and posts from influencers who have used their products.
Influencers can help to create buzz about your products and give you some positive publicity too. If your potential customers see this, they are more likely to have a positive impression of your brand.
Showcasing testimonials from influencers is one of the easiest ways to promote your e-commerce business on Twitter.
5. Engage With Your Community

If you want to build lasting relationships on Twitter, you should aim to build a community of like-minded people. For that, you need to follow your customers, peers, competitors, bloggers, influencers, and others in your domain.
Find out what your customers are talking about and where they hang out. If you have an e-commerce store that sells sportswear, for example, it's a good idea to watch out for upcoming sports events. Whether it is FIFA, Wimbledon, or Olympics, you need to see what is gaining popularity with your audience. Based on that, start a conversation thread with your followers on Twitter.
Ask for their opinions, suggestions, and experiences. Twitter is a great place to have a friendly conversation with your customers. Just make sure you respond to them too. Appreciate their replies and thank them for their involvement. Just a courteous message can go a long way to motivate customers to engage more with you.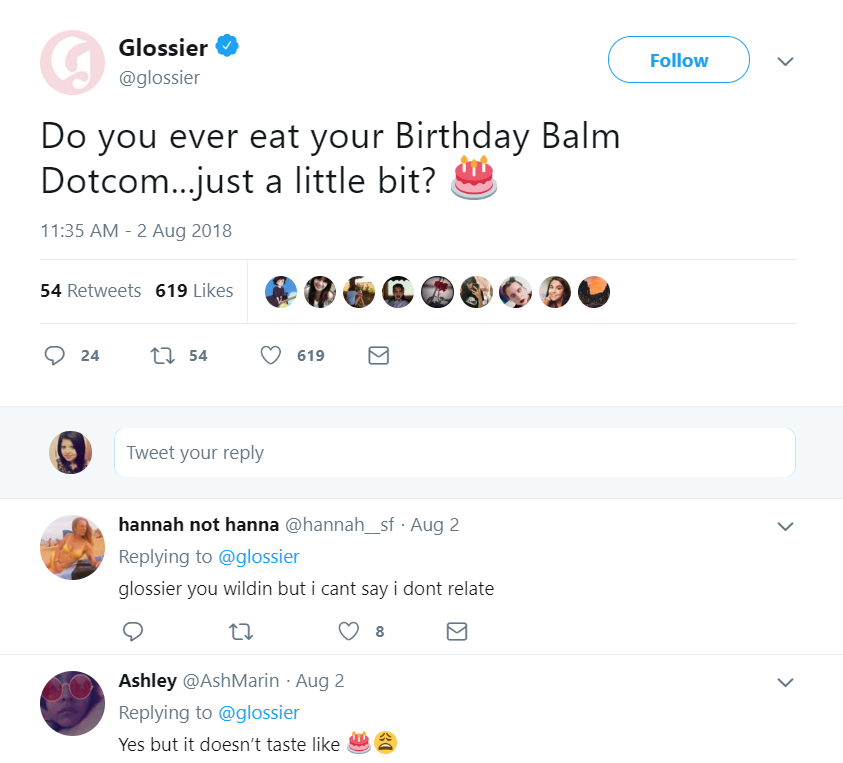 Image via Twitter
Glossier engages with their customers and keeps the conversations light and fun. By simply acknowledging and responding to their customers, they're showing them appreciation for writing to them. It's a simple strategy, but works wonders in increasing engagement on Twitter.
6. Use Twitter Ads

Twitter Ads can help you drive more sales by redirecting customers from Twitter directly to your website or app. They have a targeting feature which allows you to specify age, location, gender, and other demographics for your ad. So you can ensure that your ad reaches your target audience easily.
On Twitter, there is no minimum amount for a campaign that needs to be spent. The cost of your Twitter ads is decided by auctions. For those who can't decide how much to bid for, there is an automatic bidding option too. It will give you the best bid price for you based on your ad budget and ad campaign goals.
You should choose four to five tweets to focus on in your campaign. All of the tweets that you choose should have a strong call-to-action button. Twitter also has a "Promote Mode" option that promotes your first 10 tweets every day. Twitter is a great place to advertise, but you need to have well-defined goals before you begin.
Conclusion

If you want your e-commerce business to grow, you need to gain more visibility on social media. Twitter can help you get more engagement and even boost sales for your e-commerce business. But you need to work to build a strong brand presence on Twitter.
Twitter promotions may take some time to show clear results, so you need to be patient. Just make sure you are consistent and active on Twitter.
Which other Twitter promotion strategies have worked for your e-commerce business? Please share your suggestions in the comments section below.