As Twitter grows in popularity, marketers should know how to track and measure success on Twitter. Twitter metrics provide insights to improve future campaigns.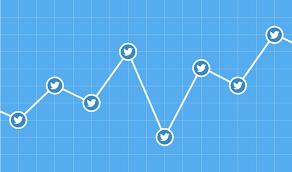 Launched 17 years ago as a micro-blogging platform, Twitter has grown to become a multi-faceted social media network.
The app has become the main source for breaking news, a leading networking site for young adults, and a customer service channel for brands.
With 237.8 million monetizable daily active users, companies know that having a presence on Twitter allows them to connect with their customers and boost brand recognition.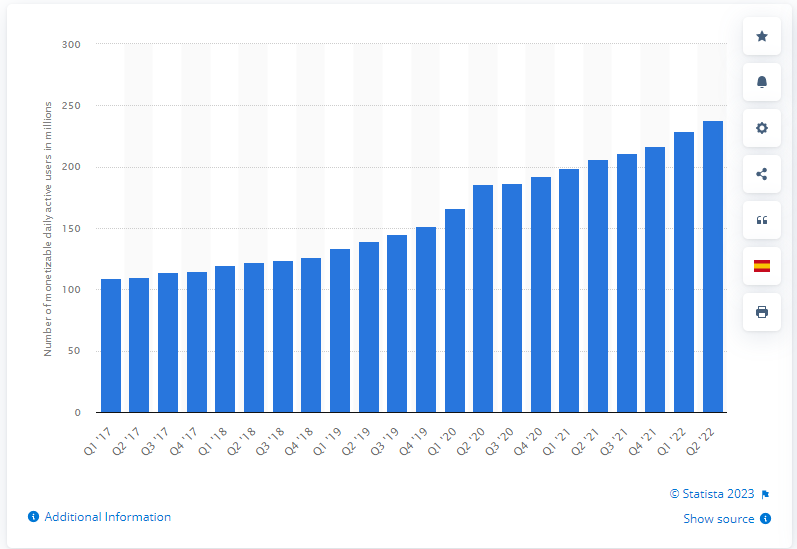 Image via Statista
While running campaigns on the platform is one thing, measuring the effectiveness of your marketing efforts is another. To achieve your social media goals, you need to learn how to track and measure success on Twitter.
Here are 5 ways to measure the impact of your marketing campaigns on Twitter.
1. Measure Your Popularity with Impressions
Twitter allows you to track events to get a deeper understanding of your audience. One of the key metrics that will help you track and measure success on Twitter is the number of impressions.
Impressions represent the number of times your Tweet was organically viewed on Twitter during a specific reporting period. This also includes the attention a Tweet gets when it is retweeted by others on the platform.
This is a non-unique metric which means that a user can view a Tweet more than once and the Tweet will accumulate extra impressions despite those being from the same person.
The number of impressions is an important metric to track because it tells you how popular your Tweets are. While it doesn't tell the specific number of users who saw your Tweet, the metric captures how far a Tweet has gone across multiple feeds.
As such, the metric can be used to track and measure success on Twitter by helping marketers monitor their efforts to build brand awareness.
The image below shows the impressions a Tweet received on the platform. To access this data, simply open a Tweet and click the View Analytics button.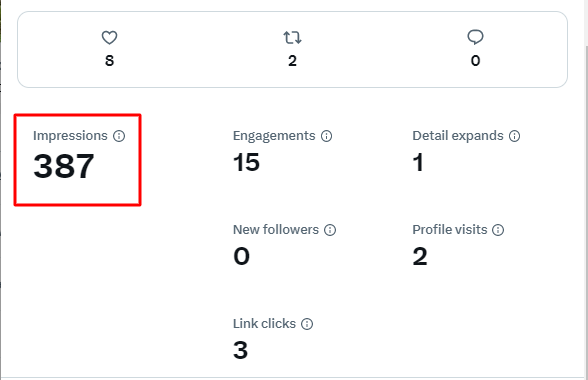 Image via Twitter
The impressions data will be on the left of the dashboard.
With an idea of how far your tweets have gone, you can come up with a plan to create more viral content.
2. Track and Measure User Engagement with Tweet Engagement
Besides impressions, another way to track and measure success on Twitter is by analyzing the engagement you get on your tweets.
The Twitter engagement metric will tell you how many people interacted with your content. The metric is available both at a single Tweet level and a total account activity level.
The user engagement metrics that Twitter tracks include:
Detail expands
Likes
Retweets
@ replies
Link clicks
Profile visits
The total engagement figure is the summation of the individual elements highlighted above. From my earlier example, the Tweet received a total of 15 engagements, which include 8 likes, 2 retweets, 3 link clicks, 2 profile visits, and 1 detail expand.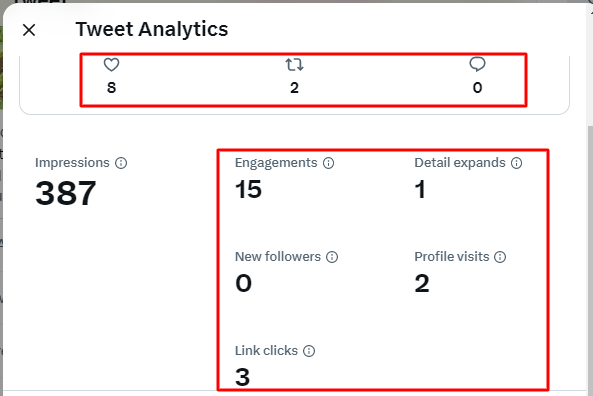 Image via Twitter
Along with these, tracking specific hashtags is a good strategy to measure user engagement, provided you have a strong hashtag strategy. If you aren't sure how to use hashtags effectively, this Attrock post is a good read.
So, how can you use these statistics to track and measure success on Twitter?
Well, as a marketer, you must have targets for your Twitter campaigns. In this case, your target may be to achieve a certain amount of tweet engagement in a certain period.
When you analyze your Tweets at the end of the campaign period, you will know if you hit the target or not. If not, it means your tweets were not valuable enough for your audience to stop and interact with them.
This data analysis will send you back to the drawing board to develop a better strategy to increase your Tweet engagement. For example, you may discover that adding engaging content like memes, GIFs, and videos can boost your engagement rates.
Other strategies to increase Tweet engagement include:
Publishing content that's relevant to users
Creating content around trending topics
Modifying your brand voice on Twitter
Creating interesting polls and quizzed
3. Determine the Effectiveness of Your Marketing Activity with the Number of Link Clicks
When running an ad campaign on Twitter, you first need to set your objectives. If you want to generate more leads or drive more traffic to your website, you will be interested in the number of clicks your links are getting.
Twitter allows you to track the links on your posts. It's through this feature that you will learn which type of content is attracting the most number of clicks.
For example, you can publish different posts and add the same link to your website. After some time, you will study the engagement in the posts to see which one had the most link clicks.
This information will tell you the type of posts that get the best results. For example, if you notice that tweets with an image get more link clicks than other types of tweets, you can update your Twitter marketing strategy and add an image to generate more link clicks.
4. Identify Brand Advocates with the Top Follower Metric
When you share a tweet, Twitter analytics will let you know how many new followers you've gained from that tweet.
Every business wants a huge following on social media to make it easy for them to promote their products. That is why the new followers metric is a great way to track and measure success on Twitter.
This is because the statistic will let you know which type of posts are relevant to your audience.
For example, when you realize you get more followers when you post informational content that enlightens your audience, your will adjust your content strategy and create more informational posts.
Besides telling you how many new followers you have acquired, Twitter will also let you know the top follower from your new connections. As the name suggests, this is the user with the most number of followers from the accounts that have followed you.
This is a valuable metric for potential influencer marketing campaigns for your brand. The top follower has already demonstrated interest in your brand and can help you reach a wide audience with their large following.
5. Pay Attention to Conversions
Another proven way to track and measure success on Twitter is to study the conversion rate of your ad campaigns. When you launch a campaign on the platform, Twitter allows you to track how many people interact with your ads.
However, the metric that greatly determines success is the conversion rate. You want to know how many people performed the desired action after seeing your ad and that's exactly what this metric measures.
Let's say you created an ad to get people to download your invoicing software. You'd want to know the percentage of users that clicked your ad to take the next steps.
If your conversion rate is not where you wanted it to be, this will guide you to modify the ad to attract more users. In this case, you can consider changing the heading, visuals, ad copy, or CTA.
Overall, tracking your conversions can help you track and measure success on Twitter.
Final Thoughts
As Twitter continues to grow as a marketing channel, marketers should take time to learn how to track and measure success on Twitter.
Having a presence on the platform is not enough if you want to grow your brand. You need to identify the metrics that matter to your business and track them to determine if your campaigns are effective or not.
Use the insights from the metrics to improve your campaigns and drive positive business performance on the channel. Good luck!
Author Bio – Gaurav Sharma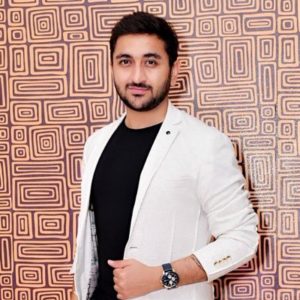 Gaurav Sharma is the founder and CEO of Attrock, a results-driven digital marketing company. Grew an agency from 5-figure to 7-figure revenue in just two years | 10X leads | 2.8X conversions | 300K organic monthly traffic. He also contributes to top publications like HuffPost, Adweek, Business 2 Community, TechCrunch, and more.
Gravatar Email ID: gauravs@attrock.com
Social Accounts: Twitter, LinkedIn, Pinterest, Instagram & Facebook